Esau and the Edomites: Contents
A Brit-Am, Lost Ten Tribes of Israel, Report
Esau and the Edomites
by Yair Davidiy

Contents:
1. Esau the Man.
2. The Family of Esau.
3. Characteristics of Esau.
Good Edomites.
Rulers and Leaders.
Military Prowess.
Hatred of Israel.
Urge for the Replacement of Judah.
Caucasian Prototype.
Intellect.
Comparisons and Parallels Between Joseph and Esau.
The Midrash Compares Joseph to Esau.
More Parallels and Distinctions Between Joseph and Esau.
Struggle for the Birthright and Paternal Blessing
Resentment of Judah
Physically Similar
Other Shared Negative Attributes
Blessed Salubrious Lands to Dwell in
Rule Over Others and Be Military Powers
Esau to be Involved with the governance of Joseph?

Esau and Joseph as Abstract Symbols


4. Nations of Esau in Ancient Times
5. Esau in Germany.
6. Esau in Other Nations?
China, Japan, Italians, Hispanics?
7. Esau and his Kin. The Family of Esau in Chronicles.
8. The Chiefs of Edom and Germany
Poem: Esau

See Also:
Esau-Edom. Articles concerning the identity of Edom

Hebrew Nations - Esau. The Descendants of Edom and their Implications According to Biblical Prophecy (list of Articles)

Esau the Red-Head

Europe
Article Still in Preparation. Publication To be announced in coming Posting of "Brit-Am Now".
Esau in Judah
Article Still in Preparation. Publication To be announced in coming Posting of "Brit-Am Now".
Edom amongst Israelite Nations
Article Still in Preparation. Publication To be announced in coming Posting of "Brit-Am Now".
The Identification of Identity Fanatics with Edomites and Others
Article Still in Preparation. Publication To be announced in coming Posting of "Brit-Am Now".
Esau in Prophecy.
Article Still in Preparation. Publication To be announced in coming Posting of "Brit-Am Now".
Poem: Esau




Publications
Site Map
Contents in Alphabetical Order

This Site


To Make an Offering to Brit-Am

Send a check to
Brit-Am
POB 595
Jerusalem 91004
Israel

or deposit a donation in our
PayPal Account
http://britam.org/books.html#donate





The name "Ephraim" in Hebrew Letters as Seen
by Satellite in the Hills of Ephraim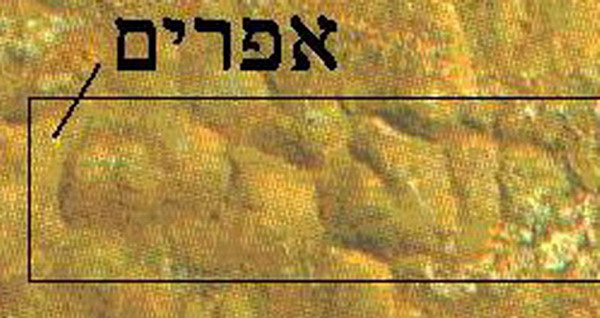 Correspond with us
Send Comments or Criticisms
You may not always receive an immediate answer
but anything you say will be considered and appreciated
Send us an
e-mail

Books and Offering Opportunities

Main Page