"THE TRIBES. THE ISRAELITE ORIGINS OF WESTERN PEOPLES"
by Yair Davidiy

Proof as to where the Lost Ten Tribes went; who their descendants are today; and which Tribe each specific national group belongs to.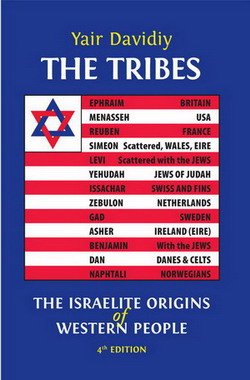 THE TRIBES: 4rd Edition
"The Tribes" 4th Edition.
Now AVAILABLE!

THE TRIBES proves that most of the ancient Israelites were exiled and lost their identity. They eventually migrated to Western Europe where they formed distinct nationalities.
The peoples of Ireland, North Ireland, Scotland, England, Wales, Switzerland, France, Belgium, The Netherlands, Denmark, Norway, Iceland, Sweden, and Finland all contain significant numbers of Israelite Ten Tribe descendants. On the whole they are not aware of their Hebrew ancestry. The descendants of the Ten Tribes also populated North America, Australia, New Zealand, and South Africa.

In "THE TRIBES" Specific Israelite Tribes and Tribal clans are traced to present-day ethnic groups. Proof is provided from the Bible, Rabbinical Sources, Greek and Roman Accounts; History, Archaeology, Mythology, and Linguistics. National symbols and Ethnic Characteristics are analyzed.
Additional features include: up-to-date international comparative statistics; a detailed list of Biblical Proofs; new information of ground-breaking importance.

THE TRIBES proves its case with irrefutable evidence from Scripture!
This is confirmed from secular fields of Study that are adequately referenced with academically acceptable sources.
This could be the most important work of our times!

Since it was first published in 1993 "THE TRIBES" has gone through several printings and caused quite a sensation.
The present edition (no.4)is now available[See Below].
This is an extremely important work of very great value. It is also highly readable, informative, and exciting. The Tribes (4th edition) is exhilarating!

Most of our works have been relatively successful and The Tribes more than any of them.
This new edition is even better!
You need this work.
Due to limited funds only a relatively small number have been printed, so far.
Guarantee you get one.
The Tribes is now available!

Differences to previous editions:
Much new information. New maps and illustrations. Some re-arrangement of the original content. Editorial improvements.
The Tribes (4th edition) has 576 pages which includes ca. 148 maps and illustrations.

In the past copies of The Tribes usually sold out quickly and it became something of a collector's item.
"THE TRIBES" is now available in limited numbers. We urge you to take advantage of this offer.
Order Now.
THIS BOOK CAN REVEAL YOUR HEBREW ANCESTRY!

The price, $30, includes postage and handling to anywhere in the world.