Dell Griffin Refuted and Dell Griffin Refuted Again!
Contents:
Dell Griffin Refuted!
Dell Griffin Refuted Again!
Reactions and Answers!

Dell Griffin now calls himself "Maggid ben Yosef".
Dell in many ways may be something of an eccentric but he is a talented writer, an accomplished journalistic reporter, and he has done much good in spreading the idea of Israelite Identity in an overall positive manner despite a recent serious deviation against the "Anglo" population. Dell has the ability of making contact with all kinds of people and presenting them as agreeing with his position or at least inclined to be sympathetic towards it. He also uses Jewish sources and misquotes from them.
Experience shows that Dell is not someone to be ignored. In the past he has privately and publicly criticized Brit-Am. We have just received a new missive of his which in effect is replying to a letter of ours from some time back.
In short we are now replying to what Dell says for the sake of accuracy, to dispell misconceptions, and on the assumption that what Dell says others may be thinking.

In the article below you will find Dell Griffin replying to Brit-Am and below that Replies of Brit-Am.

"Brit-Am": Like it or not there is no other!


Dell Griffin Refuted!
Brit-Am is the One Organization that Tells it as it is!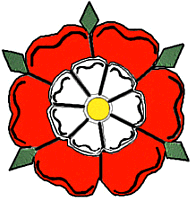 The Brit-Am Rose
Official Symbol of Brit-Am


Dell Griffin Refuted!



---
---
Feb 10, 2008
Let the record be clear:
MbY replies to Yair Davidy email
NOTE: Only recently have the mourning periods ended for MbY's late father, Dell Griffin Sr., z"l, the late Rabbi Abe Raich, z"l, and his best friend, the late Sioux medicine shaman, "Buffaloman John Wilson." He would prefer to spend his energy in other ways, but during these periods of mourning, MbY said the Spirit has repeatedly borne witness of "unreconciled enmity and vexation" between the Juda'ite Yair Davidy and Josephite MbY."
For Brit-Am Reply see Juda'ite Yair Davidy Below.
I would like to challenge Yair to rethink one point of his otherwise brilliant etymological trek of the tribes of Israel. If he will do so, the facts are in line, the case set and the stage is ready for the Return of the House of Joseph.

The Return, or at least its announcement, is timed at the 11th hour to test the resolve of Americans who have backed presidencies and foreign policies so ignorant of Torah and the Prophets as to take the Birthright of Jacob and give it to Esau.

Yair, the Rambam's definition of the Rov (majority) being taken from a settled population means the coastal regions of every nation represents that nation.


For Brit-Am Reply see Inundation Below.


As the long foretold inundations are about to commence, these coastlands are shaping up to be a refugee population.

Yair, it is an etymological certainty that the Cimmerians were the root stock into which Hashem grafted all nations. The etymological origin of the Cimmerians was the Beit 'Omri, as your colleague and mentor Yohanan Hevroni ben David (John Hully) concluded when you were his research director and you both worked for Rabbi Eliyahu Avichai'il. Remember, when John presented evidence of the Sanbatyon being the Bosporus? What a lot of people don't know is that part of John's research came from a story in the New Testament when the apostle, Paul, (Sha'ul ha-sh'liach) was in Bithnyia looking in the direction of Macedonia across the river, (san) Bosporus.



For Brit-Am Reply see Mentor Below.

We know that the Cimmerians traversed Europe and settled along the way with the greatest concentrations according to ben David (Hully) putting down roots in Scandinavia, the Normandy coast of France, the Scottish highlands, Wales (Kymri) and Ireland.

It is no exaggeration to say that by the time Columbus was a late-comer to the shores named after Americus Vespucius 22 centuries later, the part of Ephraim contained in the subset called 'House of Israel' and identified as "Beit 'Omri" had long leavened the loaves of Europe. This means that through EUROPEAN colonization, Yair, and not only British colonization, that the mixed seed of Ephraim came to the Americas and every other place colonized by Europe.

For Brit-Am Reply see Europe Below.

You are correct on one of your criticisms. I do believe and still maintain that so long as you identify Ephraim and M'nashe as the U.S. and Britain, that a racist undertone is being promoted in your teachings. Indeed from some of the opposition I have encountered against Native American identity in M'nashe, the Brit-Am claim to Ephraim has been divisive. And remember too, how unpopular George H.W. and George W. Bush have made Americans elsewhere in the world.

For Brit-Am Reply see George Bush Below.

Further, Yair, if you will come off of this position and accept the coastal regions of the entire world as the sprinkling of Ephraim, the long prophesied Rov of Joseph (Ephraim) will materialize overnight making it possible for a nation to be born in one day.

Rather than continue this enmity between us, both of our energies are better spent this year warning of the curse coming on the U.S. because of the State Department's role in handing the territories of Joseph (Jacob's birthright) to the Palestinian occupiers called by Obadiah, "the House of Esau."

In 2008, which signals the beginning at least of the Return of the House of Joseph, is there a way Yair, that a Judah'ite and and Joe can agree on something so critical to the survival of millions?

I have made minor corrections (in uppercase green) in your email to me, which was received shortly before my father's death in 2006. I am sorry that I have not had the will, inclination, intestinal fortitude and witnessing Spirit to do this before now.

Shalom Shalom and Hashem's love & blessings,

mby

4. Dell Griffin on the Rampage

Dell Griffin sent us a long and detailed letter.

He requested that we print his letter in full or refer people to his web-site at:

http://www.torah-voice.org

First of all Dell Griffin has NOT retracted his treacherous attitude towards the "Anglo" descendants of Joseph in North America who he said were about to be punished by Mexicans and others he considers "true" Israelites.

This is nuts.

It is wicked and verges on the criminal.

YAIR, HAD YOU PRINTED MY REPLY AS I HAD ASKED, WHICH WAS A LOT SHORTER THAN YOUR INITIAL ATTACK AS I RECALL, THE BRIT AM PEOPLE WOULD REALIZE THAT I NEVER SAID ANGLOS WERE ABOUT TO BE PUNISHED BY MEXICANS AND OTHERS ... I SAID THAT THE SPIRITUAL SOVEREIGNY OF AMERICA WAS CHANGING FROM THE DOMINANCE OF THE ANGLOS TO THE DOMINANCE OF THE HISPANICS. I CAN ADD THAT THE RETURN OF THE HISPANICS TO "AZTLAN" WAS LONG FORETOLD BY THE HOPI AND THAT THE HOPI ARE BELIEVED TO BE DESCENDED FROM OR INTERMINGLED WITH THE PRIESTLY FAMILY OF TZADOK, (extra y chromosome is showing up in concentrations 30 times greater than from any known totally Jewish population samples), THE ROYAL FAMILY OF ZEDEKIAH (THROUGH MULEK), AND THE JOSEPHITE FAMILY OF LEHI BEN M'NASHE BEN YOSEIF.


Therefore we have little to relate to.
Dell has nothing to do with us and never did have and never wanted to.

YAIR, I HAD HOPED THAT WOULD BE DIFFERENT, BUT IT WAS CLEAR THAT WHEN YOU CAME TO THE DEFENSE OF THE ANGLO-EXCLUSIVE EPHRAIM AND M'NASHE IDENTITY AT THE MEETING TO WHICH YOU INVITED ME TO SPEAK AT THE JERUSALEM HILTON ... AND I WAS ARRESTED AND IMPRISONED THE NEXT DAY, IT WAS OBVIOUS TO ME THAT MY ARGUMENT FELL ON DEAF EARS.

IT HAS ALSO IRKED ME THAT YOU ARE SUCH A DO-NOTHING. YOU HAVE THIS MASSIVE FOLLOWING OF JOES AND COULD BE AN IMPORTANT VOICE IN CALLING FOR THE RETURN OF THE HOUSE OF JOSEPH. YET YOU GO AROUND LIKE AN ACADEMIC PEACOCK SUCKING A PROFESSORIAL PIPE, RAISING FUNDS TO PROMOTE YOUR NEXT BOOK WITH NO COMPASSION OR FEELING FOR THE JOES LIVING IN POVERTY AND OPPRESSION AROUND THIS GLOBE WAITING FOR SOMEONE IN AUTHORITY TO BRING THEM HOME.


For Brit-Am Reply see Hoppi Below.


In the past however Dell did present flashes of sanity
and held a position not far from our own.

THE NOTED EXCEPTION BEING BRIT-AM'S IDENTITY OF EPHRAIM AND M'NASHE.


He has since gone downhill.
He was however at one stage introducing others to an almost Brit-Am way of thinking.

WELL YAIR, I ACTUALLY THOUGHT I HAD YOU SOLD ON MY IDEA ABOUT THE HOUSE OF JOSEPH BEING A GLOBAL ROV AND IN THIS MANNER HALACHAH COULD BE FOLLOWED IN RETURNING THE HOUSE OF JOSEPH. BUT YOU PROVED ME WRONG AT THE MEETING.


There may have been some good at in his approach
as he formerly presented it and NOT as he now does.

MY APPROACH HAS ALWAYS BEEN THE SAME, BUT IT HAS BEEN CLARIFIED HERE AND THERE. I'M SORRY THAT YOU DO NOT AGREE WITH THE CLARIFICATIONS AND WON'T EVEN CONSIDER THEM.

A few points he wished clarified include:

1) Dell says: <<The sanction for calling the "Joes" by the name "Joes" came from Rebbe Shani Dor (the Breslov Hasid Rav Yisrael Tzvi Yehudah Schneider)...>>

THANK YOU FOR MAKING THAT CLEAR. MY FIRST DUTY IN ANY CONTROVERSY IS TO HONOR MY MENTOR IN SOME WAY AND HE CERTAINLY DESERVES THIS HONOR.

2. Dell says he has a kind of Divinely appointed sanction for the Tribes.
<<my smichah [approbation] as a maggid [Divine Announcer] or commission from the Torah codes to "find Israel" and "raise them up as servants">>

THE WAY YOU HAVE WORDED THIS IS CONFUSING AND MISLEADING. I NEVER CLAIMED ANY DIVINE SANCTION OF ANY KIND. I SIMPLY STATED THAT MY AUTHORITY CAME FROM SMICHAH BY THE REBBE SHANI-DOR, MY MENTOR FOR 14 YEARS AND THAT HE GAVE ME SMICHAH AS A MAGGID/MOCHIAH. PART OF THE ASSIGNED DUTY OF A MOCHIAH IS TO "DECLARE THE TRUTH" AND REPROOVE WRONG OR MISLEADING DOCTRINE. SO AGAIN, YAIR I REPROOVE THE RACIST DOCTRINE YOU ARE PROMOTING LIMITING EPHRAIM AND M'NASHE TO BRITISH COLONIZATION.

3) He recalls only one meeting with me in Jerusalem and not three as I remembered
but admits that due to the trauma he endured shortly afterwards he may be mistaken.

<<But because of the stress of those days and subsequent post traumatic stress for which I continue to be treated, I may have forgotten those earlier visits. If so, I would like you to remind me of their substance. >>

A SECOND VISIT COMES TO MIND WHEN I PASSED BY BUT DID NOT STAY AS YOU HAD PLENTY OF COMPANY WHILE YOU WERE SITTING SHIVA FOR YOUR FATHER IN JERUSALEM.

Answer:
I may be mistaken. Maybe I do not remember correctly as could happen.
Whether there was one meeting, or three, it does not matter.
How many meetings there were, they were very short and consisted of an exchange of pleasantries,
personal small talk, some general principles and no more than that.

4) Dell says:
<<I did assert quite vehemently in an email to my list of Joes that the message of Brit-Am limiting Ephraim and M'nashe to Britain and America and British and American colonies was racist. I maintain that position.>>

I STILL MAINTAIN THIS POSITION. FURTHER EUROPEANS SPRINKLED WITH EPHRAIM FOUGHT THE NATIVE AMERICANS WHO WERE ASSIMILATED INTO M'NASHE. BROTHER MASSACRED BROTHER. WHEN EPHRAIMITE-SPRINKLED EUROPEAN SETTLED AMERICA FOUGHT VIETNAM, CAMBODIA, BURMA, THAILAND, THE KOREAS AND PERHAPS EVEN JAPAN, AGAIN, EPRHAIM FOUGHT THE HOUSE OF M'NASHE WHO WENT EAST ALONG THE ANCIENT SOUTHERN CHINESE TRADE ROUTES -- ACCORDING TO RABBI AVICHAYIL.


For Brit-Am Reply see CHINESE Below.

CAN'T WE UNITE OUR ENERGIES, YAIR, TO PROMOTE THIS SIMPLE TRUTH, HELP JOES QUIT FIGHTING ONE ANOTHER AND GET ON WITH THE RECONCILIATION OF JOES AND JEWS?

5) Identifies Hopi, Aztecs, Chicano [Mexican?] as all one Israelite group and wants the Israelite Government to accept them as such and populate Samaria with them!!

IT IS TOO COMPLICATED TO EXPLAIN IN ONE PARAGRAPH BUT IT IS ALL EXPLAINED IN DETAIL AT

www.torah-voice.org

(NOTE HYPHEN).


For Brit-Am Reply see Details Below.

6) The 500 families he was reported of wanting to convert
is based on a misunderstanding between himself and others.
There were no families and he did not want to convert them.

WRONG YAIR. THERE ARE MANY MANY MANY MORE FAMILIES BUT THEY DO NOT WANT TO CONVERT BECAUSE IN CONVERTING, WELL THAT'S ANOTHER THING BELOW. ALSO LET IT BE UNDERSTOOD THAT MY SMICHAH DID NOT ALLOW ME TO MAKE JEWISH CONVERTS. THOSE JOES WHO WANTED TO CONVERT -- WHO I DO NOT INCLUDE IN THE SOME 2, 520,760 JOES WHO ARE BEING MOBILIZED TO RETURN -- I ALWAYS HAVE DIRECTED TO AN ORTHODOX RABBI.

Beware: Dell quotes from Jewish sources and Jewish Law but almost invariably does so wrongly giving a false impression.

IF THERE ARE INSTANCES OR INFORMATION ON MY WEBSITE THAT ARE& INCORRECT OR IN OPPOSITION TO HALACHAH, THE READER NEED ONLY NOTIFY ME AND IT WILL BE CORRECTED AND I WILL STAND CORRECTED.


For instance he thinks that conversion to Judaism "robs them of their Yovel [Jubilee] inheritance".
No such thing or concept exists. Conversion to Judaism is an acceptance of religious obligations and does not reflect on Tribal affiliation.

IN MISHNAH MA'ASER SHENI, IT IS CLEARLY STATED THAT A "CONVERT" TO THE JEWISH FAITH HAS NO TZAHALT (INHERITANCE AT THE YEAR OF JUBILEE). AT ISSUE IS WHETHER JOES, FORCED TO REJOIN THE FAMILY OF ISRAEL BY CONVERSION TO THE JEWISH FAITH, ACCORDING TO THE MAJORITY VIEW OF THE RABBONIM, MAY VIOLATE THIS HALACHAH, HOLD ON TO A JOSEPHITE IDENTITY AND HAVE THEIR INHERITANCE AT THE YOVEL. TECHNICALLY, ACCORDING TO THIS HALACHAH, IF THEY CONVERT TO BECOME JEWISH, THEY MAY NOT. I STAND BY THIS INTERPRETATION, POINTED OUT TO ME BY THE LATE RABBI ABE RAICH, WHO HELPED ME DRAFT MY LETTER TO THE SANHEDRIN COURT ON THIS TOPIC. THE LETTER CAN BE SEEN ON MY WEBSITE.


For Brit-Am Reply see LATE RABBI Below.
---
---
---
Brit-Am Replies!
"Judaite": This is a term applied by Dell to Yair Davidiy.
It may be an Ephraimite trait to try and label people that we ourselves sometimes are guilty of but nevertheless can be irritating. Most of us cannot be sure what our Tribal affiliations are at the moment. Yiar Davidiy does not know what Tribe he belongs to. As the de facto head of Brit-Am Yair Davidiy has a responsibility to represent both Judah and Joseph.

Inundation: Dell quotes the Rambam (Maimonides) without giving a source since there is none.

Mentor: Dell has a thing about "Mentors". Dell once described Rabbi Avraham Feld as the "mentor" of Yair Davidiy. Now he says it is (or was) John Hulley. In neither case is the description appropriate. Rabbi Feld was and is a friend and associate. John Hulley is a friend who gave us informational leads and also received information from us. There was a period when Yair Davidiy worked as a Research Assistant for John Hulley BUT the views and findings of John Hulley are his own and in many instances disagree with those of Brit-Am.
Yair Davidiy NEVER worked for Rabbi Avichail and has only formally met him on two occasions apart from hearing him speak two other times. We understand that John Hulley at one stage on a pro bona basis for a few hours each week helped Rabbi Avichail answer his English-language correspondence.
John Hulley identified the Sambation with the Bosporus Strait between the Asian and European parts of present-day Turkey.
We do not know what inspired John and Dell would be better off addressing the question to him instead of making assumptions that are not correct.
Brit-Am identifies the Sambatian with the Don River in Southern Russia though acknowledging that the term could also historically have been applied to the Dneister River in Southern Russia and to the Upper Zab River in the west of present-day Iran.

Europe: The research findings of John Hulley are not those of Brit-Am though on some points we agree.
Brit-Am identifies the Lost Ten Tribes as being concentrated amongst the populations of several countries in Europe along with their overseas offshoots. We see the Tribes of Joseph (Ephraim and Manasseh) as having been concentrated especially in the British Isles and from there they began the colonization and determined the characteristics of North America.

George Bush: On the whole, George Bush has been good for Israel. The occupation of Iraq was good for the USA and good for Israel. The only really dark mark against President Bush is his recent trip to Israel and the pressure he appeared to put on Israel to give up part of its land. We still have to see what will become of this and chances are that nothing will happen.
Dell himself plays around with the idea that George Bush is Gog. This is an attitude we consider potentially insulting.

Israel is a nation that will dwell alone. Brit-Am is not looking for popularity. Whoever the Lost Ten Tribes are according to our understanding we will acknowledge. The Brit-Am approach so far has proven itself as faithful and reliable and sustainable in the light of all new findings.
The Almighty has blessed us in that respect as well as in others.

Hoppi: The story of the Hoppi sounds more like wishful thinking than anything else.
Dell said, "YOU HAVE THIS MASSIVE FOLLOWING OF JOES AND COULD BE AN IMPORTANT VOICE IN CALLING FOR THE RETURN OF THE HOUSE OF JOSEPH".
Brit-Am does have a hard core of followers. I am not sure if it could be called "massive" but God willing the day will come when such a description will be apt enough.
We do what we feel we must and we work with the long-range goal in our aim. Books are important. Books enable the tranmission of information and opinion and books last. If anything should happen to us chances are the books will remain for others to continue in our path.
Books also bring in some income which enables us to function.
Something wrong with that?
As for smoking a pipe Yair Davidiy has not smoked anything for the last 12 years or more.
Dell says that we have,
NO COMPASSION OR FEELING FOR THE JOES LIVING IN POVERTY AND OPPRESSION
If there are such "Joes" we feel sorry for them and have compassion for them and for all others in sorry circumstance.
Is Dell implying that he has more "compassion" than we do?
What else do we lack?
As for "living in poverty", most "Joes" that we know of get by reasonably well. There are exceptions.
Our own fortunes go up and down according to the offerings we receive and book sales.
Apparently, Dell has a problem with this.
Just for the record it often happens that our regular income is not sufficient so we have recourse to special appeals that SOMETIMES help. In the past Yair Davidy has also borrowed money from his family to keep Brit-Am going.

Brit-Am Does More than Anyone Else!
Dell Griffin said:
"IT HAS ALSO IRKED ME THAT YOU ARE SUCH A DO-NOTHING...WITH NO COMPASSION OR FEELING FOR THE JOES LIVING IN POVERTY AND OPPRESSION AROUND THIS GLOBE WAITING FOR SOMEONE IN AUTHORITY TO BRING THEM HOME."
If Brit-Am thought the Lost Ten Tribes were in Third-World Countries "LIVING IN POVERTY AND OPPRESSION", we might reach out to them but this is fortunately, on the whole, not the case.
Apart from that, we lack a mandate to bring the Lost Tribes "home". Our task is to tell them of their origins and to tell others including Judah.
If anything we are perhaps forerunners of Elijah:
http://britam.org/malachi.html
[Malachi 4:6] AND HE SHALL TURN THE HEART OF THE FATHERS TO THE CHILDREN, AND THE HEART OF THE CHILDREN TO THEIR FATHERS, LEST I COME AND SMITE THE EARTH WITH A CURSE.
Brit-Am works at making Lost Israelites aware of who their forefathers were.
This is quite a lot.
It is a beginning and it is not easy.
We work at making this knowledge known and acceptable to as many people as possible.
Our activities include Biblical Studies, ongoing researches, publication of the relevant research of others, daily communications with those who are interested and open forums where all (or most) relevant issues may be clarified, along with almost any activity we have the means for and that may be conducive to spreading this knowledge.
Our message does reach thousands of people both on a one-time or short-term basis as well as those who benefit through us from intensified comprehensive studies extended over a period of time. We do all this all this with virtually no staff and on a very limited budget that places severe constraints on our ability to function.
That is more than "nothing" in our opinion.

CHINESE: The Lost Ten Tribes are those descended from the Ten Tribes of Israel as proven by Biblical Proofs and affirmed by Ephraimite Criteria. Only certain nations meet the requirements. This is the truth. It is reality and it cannot be changed by wishful thinking or fancy stories.

Details: Brit-Am has the truth and has a hard enough time as it is putting that truth across. We do not need to compromise nor to co-operate with they who have a lesser truth than our own and only want to dilute the truth we have.
Brit-Am has articles and notes concerning the Japanese, Koreans, Chinese, etc and whatever they are they are not Israelites!
We think it somewhat impertinent for Dell to make blanket assumptions and attempt to railroad others into accepting them despite his lack of Biblical or Secular evidence!

LATE RABBI: No such thing. The Yovel is the Jubilee Year. In the Jubilee Year all parcels of lands were to be restored to the private Tribal member whose forefathers had originaly received them from Joshua after he conquered and divided the Land of Israel. The Jubille Year CANNOT be held untill ALL the Twelve Tribes have returned and received their Tribal Holdings. This can only happen after the Messiah, or a Process associated with the Messiah, has brought the Tribes back and each individual Tribal Member has been informed what Tribe they belong to.
It has nothing to do with conversion.
The Law ("Halachah") Dell refers to concerns someone in Biblical Times who was of non-Israelite origin and converts. Such a person in Biblical Times would not receive a Tribal Portion at the time of the Jubilee. Even though such laws were no longer applicable at the time of the Mishna (ca. 200 CE) they were still studied as if they were. In the End Times this particular Law will not be applicable BUT the non-Israelite "convert" will receive a portion alongside those of his neighbours from the Tribe he dwells amongst as explained by Ezekiel and repeated frequently by us.

[Ezekiel 47:22] AND IT SHALL COME TO PASS, THAT YE SHALL DIVIDE IT BY LOT FOR AN INHERITANCE UNTO YOU, AND TO THE STRANGERS THAT SOJOURN AMONG YOU, WHICH SHALL BEGET CHILDREN AMONG YOU: AND THEY SHALL BE UNTO YOU AS BORN IN THE COUNTRY AMONG THE CHILDREN OF ISRAEL; THEY SHALL HAVE INHERITANCE WITH YOU AMONG THE TRIBES OF ISRAEL.

[Ezekiel 47:23] AND IT SHALL COME TO PASS, THAT IN WHAT TRIBE THE STRANGER SOJOURNETH, THERE SHALL YE GIVE HIM HIS INHERITANCE, SAITH THE LORD GOD.


To Make an Offering to Brit-Am

Send a check to
Brit-Am
POB 595
Jerusalem 91004
Israel

or deposit a donation in our
PayPal Account
http://britam.org/books.html#donate





Contribute to Brit-Am

Correspond with us
Send Comments or Criticisms
You may not always receive an immediate answer but anything you say will be considered and appreciated
Send us an
e-mail

Books and Offering Opportunities

Main Page