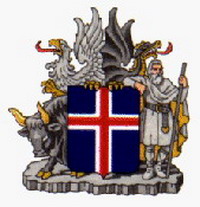 Coat of arms of the Republic of Iceland
Illustrated

Dear Yair as you see, Iceland is not the country of Dan. This creatures prohibited the Danish king from the country.
This arms was protecting Iceland from the Danish king Haraldur Gormsson (AD 958-987) so he could not take it.
These creaturs seem to me, to have strong similarities to the creatures in the first chapter of the book of the prophet Hezekiel.