Chapters with Brit-Am Commentary:
Samuel 36 to 40

Chapter 36
We now come to the actual historical event in which the Assyrian army suffered a miraculous defeat and retreated due to Divine Intervention.
This event occupied
Isaiah"s

consciousness and he used it as a model for his predictions about what would happen in the Last Days.

The account below is the same as that found in 2-Kings chapters 18 and 19. In those chapters we have added a few additional observations though most of opur commentary is to be found below.

[Isaiah 36:1] NOW IT CAME TO PASS IN THE FOURTEENTH YEAR OF KING HEZEKIAH, THAT SENNACHERIB KING OF ASSYRIA CAME UP AGAINST ALL THE DEFENCED CITIES OF JUDAH, AND TOOK THEM.


Sennacherib claimed to have captured all the unfenced cities of Judah and to have exiled more than 200,000 people. A

Midrash

says that the exiled included most of the Tribe of Simeon. Simeon geographically was placed to the south of Judah but in Biblical terms is frequently associated with the Northern breakaway kingdom. Archaeological evidence affirms a cultural dependence of Simeon on the northern kingdom of Israel.
These exiles from Simeon and the unfenced cities of Judah joined the Lost Ten Tribes in their places of Exile and shared their fate. Even though numerically a good portion of Judah was involved in Biblical terms "Judah" nearly always refers to those of Judah who remained. Similarly many Jews changed their

relgion

over the years by force or persuasion. Many of these are destined to return together with the Ten Tribes. Nevertheless "JUDAH" in Scripture is the term applied to those Jews who remained identifiable. The others are subsumed under "Israel" or "Ephraim" or something similar.

[Isaiah 36:2] AND THE KING OF ASSYRIA SENT RABSHAKEH FROM LACHISH TO JERUSALEM UNTO KING HEZEKIAH WITH A GREAT ARMY. AND HE STOOD BY THE CONDUIT OF THE UPPER POOL IN THE HIGHWAY OF THE FULLER'S FIELD.


Previously the Assyrians had taken hostages from Judah. This was normal practice in Ancient times. The hostages would often be treated well almost as honored guests and become close friends to members of the ruling family. "

Rabshakeh

" is actually a royal title meaning "chief of the drink servers" or "Steward" or "Stuart". The "Stuart" or "Stewarts" were a ruling family of England. Some of our subscribers descend from them. "

Rabshakeh

" was the son of King Hezekiah of Judah. He had apparently been taken hostage by the Assyrians. The Assyrians treated him well and entrusted him with great responsibilities. He would have been overawed with the sheer immensity of Assyrian military might and organizational resources. He went over to the Assyrian side. In Ancient times such

changes

of allegiance were a common phenomenon amongst hostages.
In a sense we are all hostages.
No-one wants conflict. At least most people do not. We would all much prefer to justify and identify with the powers that be rather than have to take the side of the underdog who is often ungrateful, undeserving, and going to lose anyway.
Nevertheless,


Rabshakeh

was wrong.
He was mistaken.


Rabshakeh

was with the Assyrian forces in the time of Hezekiah and Isaiah.
If

Rabshakeh

had have been in the time of the Babylonians under

Nebuchadnessar

and King

Zidkiyahu

and Jeremiah he may have been right. At that time surrendering was the best policy. At this time it was not.


Rabshakeh

was not to know this. Or perhaps he was? Perhaps if he have been a better person in other ways he would not have been misled. Heaven would have protected him from error.

From "Lost Israelite Identity" chapter two:
ISRAELITE EXILES IN THE ASSYRIAN ARMY.
The exiles were put to use to settle border areas and thus serve as buffer elements against the enemies of Assyria. The intention was to place these people in areas where they would be dependent on maintaining a niche in Assyria's

defence

for their own protection3. They were supposed to man colonial outposts on a semi-military feudal type arrangement.
The Assyrians were constantly in search of fresh manpower. The Assyrian population seems to have been dwindling due to emigration, revolts, depletion by warfare and internecine struggle, and by immorality4.
The Assyrians would systematically replenish their forces by absorbing cavalry and chariot units, archers, and

specialised

and general auxiliary manpower from amongst Israelite, Syrian, and other exile populations5. Armored horsemen were first depicted by the Assyrians in the reign of

Tiglathpileser

-iii and they were shown as "

Aramaeans

" (i.e. Syrians or Israelites) using Assyrian equipment.
Correspondence between

Tiglathpileser

and one of his officials near

Tyre

shows that the exiles were expected to serve in the Assyrian armies6.
Sargon besieged and took Samaria in Israel. In an inscription Sargon says, that he took 50 chariots and 27,000 plus people for his own (military) use and the rest he settled in Assyria. Later, a general in Sargon's forces was named "

Hilkiyahu

" which is a Hebrew name7. In Nineveh (one of the Assyrian capitals) have been discovered lists of cavalry units from Israelite Samaria and other records of charioteers bearing Israelite names8. Archaeological evidence demonstrates that, "Sargon also employed large numbers of men from central Syria and Palestine"9: "Central Syria and Palestine" in effect, meant the former Israelite area. Important groups of auxiliary soldiers identified as

Aramaeans

from west of the Euphrates may also have included soldiers of Israelite descent: Israelite Tribes had once controlled all of the area west of the Euphrates. In regions adjacent to the west bank of the Euphrates Ptolemy recorded Israelite Tribal and Clan names*10, and evidence exists suggesting that Israelites in these areas spoke Aramaic. Non-Assyrian soldiers in various stages of assimilation to Assyrian norms formed the bulk of the Assyrian army and amongst these non-Assyrians Israelite exiles were prominent..
A list has been found containing "the names of many, perhaps most, of the top officials and the equestrian officers in Sargon's army"11. The list is divided into two sections, - one consisting of units from cities of Assyria proper,12, and a second section considered to be that of the "royal army"13 and presumed to have been more important. This second more-important section is a listing of officers and it is divided into seven units. One of these seven units consists of

Chaldeans

, a second unit is that of 13 equestrian officers from Israelite Samaria. The nationality of the remaining five units is not given and amongst these may also have been Israelites. The commander of the known Israelite Samarian unit has the same rank as King Sargon's twin brother and was considered about the seventh most important man in the kingdom14. A

horsetrainer

(or

horsebreeder

) who was also a military commander from former Israelite Samaria named

Sama

seems to have become a friend and advisor of the Assyrian king, Sargon. Later

Sama

was made the equestrian instructor of one of the sons of Sennacherib, the successor of Sargon15. The equestrian forces consisted of

chariotry

and cavalry. It is assumed that the Israelites concentrated on

chariotry

which at first had been considered more important. Improvements in horse equipment, however, increased cavalry efficiency. These improvements first become evident just after most of the Israelites had been exiled. It is uncertain whether the Hebrews were responsible for the new equestrian developments which are considered to be characteristic of the Cimmerians who also appeared around this same time (or shortly afterwards) and whom other factors link with Israel. The best horses, researchers say, for

chariotry

were obtained from

Nubia

(Sudan) whereas the best cavalry horses came from

Mannae

and were obtained and trained by

Urartian

intermediaries.

Mannae

was a centre of Israelite re-settlement.


Rabshakeh

.
Sennacherib attacked Judah and subdued most of it. According to the research of David James

Skelly

,
~Sennacherib later sent

Rabshakeh

with a great army to Jerusalem to obtain the surrender of the city [which he however never obtained]...

Rabshakeh

is not a personal name it is a title...

Rabshakeh

is the title of the Assyrian field commander. Unless one of the king's sons has been designated as the crown prince the

Rabshakeh

is the 3rd most powerful person in the Assyrian army after the king and the Tartan~23.



Rabshakeh

spoke "The Jews' Language" ("

Yehudith

") which was probably a form of mainstream Hebrew (2-Kings 18;26):
. "Then said

Eliakim

and

Shebneh

and

Joah

unto

Rabshakeh

, Speak I pray you unto your servants in the Syrian language [`

Aramit

']; for we understand it and speak not unto us in the Jews' language [`

Yehudit

'], in the ears of people that are on the wall.."

Rabshakeh

refused the request but rather "stood and cried out in the Jews' language.." (Isaiah 36;13-17). Whoever

Rabshakeh

was he was very important and he did know the

Judaean

dialect of Hebrew.

Rabshakeh

according to Talmudic tradition was a renegade Israelite or rather an apostate Jew24. The Talmud and the Aramaic Translation to the Bible says that

Rabshakeh

was the brother of

Menasheh

the future king of Judah and therefore he must have been a renegade son of Hezekiah himself25! As noted above

Rabshakeh

would not have been the only high-ranking Israelite in Assyrian service. Sennacherib would later boast of having taken from King Hezekiah (as tribute) his best fighters and charioteers.
Sennacherib recorded having exiled more than 200,000 people from Judah. The Bible mentions him having captured all of the unfenced cities in Judah and

Midrashim

also speak of Sennacherib deporting vast numbers from Judah and Simeon. These exiles joined the deported Tribes of northern Israel and shared their destiny. One of the cities of Judah captured by Sennacherib was

Lachish

on the border between Judah and

Phillistia

. Assyrian bas-relief illustrations show the siege of

Lachish

and its people being taken into exile. They also illustrate the peculiar uniforms of the

Judaean

soldiers defending

Lachish

. Former

Judaean

soldiers from

Lachish

, "were enlisted into the bodyguard of Sennacherib, where they were allowed to wear their own uniform", i.e. they wore the same (or almost the same) uniform as when they fought for Judah and are therefore still

recognisable

. They comprised "presumably the earliest example in history of a Jewish regiment"26. After Sennacherib's death a revolt took place and the palace was burnt. The depicted face of king Sennacherib in the relief was virtually destroyed. Since the face of Sennacherib alone was mutilated in this way, the researcher R.D. Barnett suggests that the mutineers were

Judaeans

, one-time Jewish soldiers from

Lachish

and afterwards probably members of the former king's bodyguard..
The destiny and fate of the soldiers from

Lachish

is symptomatic on a small scale of what was to happen to the northern Israelites on a larger one: Just as

Judaeans

from

Lachish

in their place of exile were made the bodyguard of the monarch and later revolted and burnt the palace, so too the northern Israelites were to occupy an important position in the Assyrian forces which must have facilitated the eventual takeover (by Israelite Scythians) of the whole Assyrian Empire.



After Sennacherib (705-681

b.c.e

.) came

Essarhaddon

(681-669) and after him

Assurbanipal

(669- 663).
Amongst those forming the bodyguard of

Assurbanipal

, is depicted a spearman uniformed like an Israelite or Syrian. During the reign of

Assurbanipal

the Israelite Scythians were destined to eventually take control of the Assyrian Empire. An Israelite presence in the Assyrian armed forces most likely would have been connected to this event and also the assumption of virtual independence by the exiled Israelites that led up to it.



22.

Dalley

37
23."The Assyrian Empire" (1996) p.5 by David James

Skelly

of Sydney, Australia.
24. Talmud

Babli

, Sanhedrin 60;a.
25. Aramaic Translation to

Kohelet

(Ecclesiastes) ch.18 see

Yehudah

Kiel on 2-Kings 18;17 in "

Sefer

Melachim

" (

Mosad

HaRav

Kook) Jerusalem 1989.
26.

R.D.Barnett

"The Siege of

Lachish

", Israel Exploration Journal [

IEJ

], vol.8 Jerusalem, Israel, 1958). This fact was first noticed by Colonel

Rawlinson

who examined

reliefs

(now in the British Museum) from the palace of Sennacherib.

[Isaiah 36:3] THEN CAME FORTH UNTO HIM ELIAKIM, HILKIAH'S SON, WHICH WAS OVER THE HOUSE, AND SHEBNA THE SCRIBE, AND JOAH, ASAPH'S SON, THE RECORDER.

[Isaiah 36:4] AND RABSHAKEH SAID UNTO THEM, SAY YE NOW TO HEZEKIAH, THUS SAITH THE GREAT KING, THE KING OF ASSYRIA, WHAT CONFIDENCE IS THIS WHEREIN THOU TRUSTEST?

[Isaiah 36:5] I SAY, SAYEST THOU, (BUT THEY ARE BUT VAIN WORDS) I HAVE COUNSEL AND STRENGTH FOR WAR: NOW ON WHOM DOST THOU TRUST, THAT THOU REBELLEST AGAINST ME?

[Isaiah 36:6] LO, THOU TRUSTEST IN THE STAFF OF THIS BROKEN REED, ON EGYPT; WHEREON IF A MAN LEAN, IT WILL GO INTO HIS HAND, AND PIERCE IT: SO IS PHARAOH KING OF EGYPT TO ALL THAT TRUST IN HIM.

[Isaiah 36:7] BUT IF THOU SAY TO ME, WE TRUST IN THE LORD OUR GOD: IS IT NOT HE, WHOSE HIGH PLACES AND WHOSE ALTARS HEZEKIAH HATH TAKEN AWAY, AND SAID TO JUDAH AND TO JERUSALEM, YE SHALL WORSHIP BEFORE THIS ALTAR"

[Isaiah 36:8] NOW THEREFORE GIVE PLEDGES, I PRAY THEE, TO MY MASTER THE KING OF ASSYRIA, AND I WILL GIVE THEE TWO THOUSAND HORSES, IF THOU BE ABLE ON THY PART TO SET RIDERS UPON THEM.

[Isaiah 36:9] HOW THEN WILT THOU TURN AWAY THE FACE OF ONE CAPTAIN OF THE LEAST OF MY MASTER"S SERVANTS, AND PUT THY TRUST ON EGYPT FOR CHARIOTS AND FOR HORSEMEN"

[Isaiah 36:10] AND AM I NOW COME UP WITHOUT THE LORD AGAINST THIS LAND TO DESTROY IT? THE LORD SAID UNTO ME, GO UP AGAINST THIS LAND, AND DESTROY IT.

[Isaiah 36:11] THEN SAID ELIAKIM AND SHEBNA AND JOAH UNTO RABSHAKEH, SPEAK, I PRAY THEE, UNTO THY SERVANTS IN THE SYRIAN LANGUAGE; FOR WE UNDERSTAND IT: AND SPEAK NOT TO US IN THE JEWS' LANGUAGE, IN THE EARS OF THE PEOPLE THAT ARE ON THE WALL.


"IN THE SYRIAN LANGUAGE" i.e. Aramaic.

Aramiac

or a mixed Aramaic-Hebrew dialect was also spoken by at least part of the

Israelite

Tribes who dwelt east of the Jordan River, see the Brit-Am publication "Ephraim" for an example.

[Isaiah 36:12] BUT RABSHAKEH SAID, HATH MY MASTER SENT ME TO THY MASTER AND TO THEE TO SPEAK THESE WORDS? HATH HE NOT SENT ME TO THE MEN THAT SIT UPON THE WALL, THAT THEY MAY EAT THEIR OWN DUNG, AND DRINK THEIR OWN PISS WITH YOU?

[Isaiah 36:13] THEN RABSHAKEH STOOD, AND CRIED WITH A LOUD VOICE IN THE JEWS' LANGUAGE, AND SAID, HEAR YE THE WORDS OF THE GREAT KING, THE KING OF ASSYRIA.

[Isaiah 36:14] THUS SAITH THE KING, LET NOT HEZEKIAH DECEIVE YOU: FOR HE SHALL NOT BE ABLE TO DELIVER YOU.

[Isaiah 36:15] NEITHER LET HEZEKIAH MAKE YOU TRUST IN THE LORD, SAYING, THE LORD WILL SURELY DELIVER US: THIS CITY SHALL NOT BE DELIVERED INTO THE HAND OF THE KING OF ASSYRIA.

[Isaiah 36:16] HEARKEN NOT TO HEZEKIAH: FOR THUS SAITH THE KING OF ASSYRIA, MAKE AN AGREEMENT WITH ME BY A PRESENT, AND COME OUT TO ME: AND EAT YE EVERY ONE OF HIS VINE, AND EVERY ONE OF HIS FIG TREE, AND DRINK YE EVERY ONE THE WATERS OF HIS OWN CISTERN;

[Isaiah 36:17] UNTIL I COME AND TAKE YOU AWAY TO A LAND LIKE YOUR OWN LAND, A LAND OF CORN AND WINE, A LAND OF BREAD AND VINEYARDS.

From "Lost Israelite Identity" chapter two:
Assyrian wall carvings depict captured peoples being systematically tortured, maimed, mass-raped, and exterminated. Assyrian descriptions of their own actions seem to reveal a sadistic pride in their own cruelty. At the same time, Assyrian monarchs also glorified themselves by the success of their re-settlement policies and by the material benefits these brought to all inhabitants of the vast Assyrian Empire. Sennacherib (704-681) reigned some time after the first Hebrews had been transported. He considered the proposition of deportation to a suitable area a reasonable offer when demanding the capitulation of Jerusalem:
"Make an agreement with me and come out to

me..until

I come and take you away to a land like your own land, a land of corn and wine, a land of bread and vineyards" (Isaiah 36;16 17).

The besieged inhabitants of Jerusalem did not accept Sennacherib's offer but it was made and may have relied on knowledge of historical precedent concerning the northern Israelites. The sources are therefore ambiguous and the best way to reconcile them is to assume that the quicker a conquered people assimilated itself to Assyrian concepts and needs the better off it would be.

[Isaiah 36:18] BEWARE LEST HEZEKIAH PERSUADE YOU, SAYING, THE LORD WILL DELIVER US. HATH ANY OF THE GODS OF THE NATIONS DELIVERED HIS LAND OUT OF THE HAND OF THE KING OF ASSYRIA?

[Isaiah 36:19] WHERE ARE THE GODS OF HAMATH AND ARPHAD" WHERE ARE THE GODS OF SEPHARVAIM" AND HAVE THEY DELIVERED SAMARIA OUT OF MY HAND?


Samaria had already been taken into Exile. Samaria was the last

remnant

of the northern kingdom from whom the Lost Ten Tribes descend. Their gods had not saved them.

[Isaiah 36:20] WHO ARE THEY AMONG ALL THE GODS OF THESE LANDS THAT HAVE DELIVERED THEIR LAND OUT OF MY HAND, THAT THE LORD SHOULD DELIVER JERUSALEM OUT OF MY HAND"

[Isaiah 36:21] BUT THEY HELD THEIR PEACE, AND ANSWERED HIM NOT A WORD: FOR THE KING"S COMMANDMENT WAS, SAYING, ANSWER HIM NOT.


"ANSWERED HIM NOT A WORD": This can be the best policy. Sometimes Brit-Am gets

criticised

, misrepresented, or unjustly attacked. Sometimes we reply. At other times silence is best.

[Isaiah 36:22] THEN CAME ELIAKIM, THE SON OF HILKIAH, THAT WAS OVER THE HOUSEHOLD, AND SHEBNA THE SCRIBE, AND JOAH, THE SON OF ASAPH, THE RECORDER, TO HEZEKIAH WITH THEIR CLOTHES RENT, AND TOLD HIM THE WORDS OF RABSHAKEH.

Chapter 37
[Isaiah 37:1] AND IT CAME TO PASS, WHEN KING HEZEKIAH HEARD IT, THAT HE RENT HIS CLOTHES, AND COVERED HIMSELF WITH SACKCLOTH, AND WENT INTO THE HOUSE OF THE LORD.
He tore his clothes and submitted himself to the Almighty.
He prayed. This king prayed often and his prayers were answered.

[Isaiah 37:2] AND HE SENT ELIAKIM, WHO WAS OVER THE HOUSEHOLD, AND SHEBNA THE SCRIBE, AND THE ELDERS OF THE PRIESTS COVERED WITH SACKCLOTH, UNTO ISAIAH THE PROPHET THE SON OF AMOZ.
These people had also been praying with the King.

[Isaiah 37:3] AND THEY SAID UNTO HIM, THUS SAITH HEZEKIAH, THIS DAY IS A DAY OF TROUBLE, AND OF REBUKE, AND OF BLASPHEMY: FOR THE CHILDREN ARE COME TO THE BIRTH, AND THERE IS NOT STRENGTH TO BRING FORTH.


The renegade Israelite "

Rabshakeh

" had spoken in contempt of the God of Israel. The Assyrians were contemptuous of Judah and Jerusalem. When Judah is treated with contempt it is as if God Himself is being so treated. Also when Judah does not behave as he should the name of the Almighty is desecrated.
"THE CHILDREN ARE COME TO THE BIRTH": Before our modern era when a woman was giving birth then she felt terrible

panges

just before delivering the child. If however something went wrong and she lacked strength to go throug the final stages then she would suffer terribly with no let up and be in danger of dying. If she had several children in her womb then I guess her suffering would be even greater.
I had a neighbor once who advocated natural child birth. She gave birth to several healthy children in her own small apartment. She claimed it was the only way to do it. My impression was that her female neighbors admired and envied her actions in this matter but they would not do the same since they were afraid of complications.

[Isaiah 37:4] IT MAY BE THE LORD THY GOD WILL HEAR THE WORDS OF RABSHAKEH, WHOM THE KING OF ASSYRIA HIS MASTER HATH SENT TO REPROACH THE LIVING GOD, AND WILL REPROVE THE WORDS WHICH THE LORD THY GOD HATH HEARD: WHEREFORE LIFT UP THY PRAYER FOR THE REMNANT THAT IS LEFT.


Rabshakeh

had compared the Living God of Israel to dead gods as if they were the same. He was speaking in the name of Sennacherib and bore his message.
"THE REMNANT THAT IS LEFT": The Lost Ten Tribes had been taken into exile and so had much of Judah who had joined the Ten Tribes.

[Isaiah 37:5] SO THE SERVANTS OF KING HEZEKIAH CAME TO ISAIAH.

[Isaiah 37:6] AND ISAIAH SAID UNTO THEM, THUS SHALL YE SAY UNTO YOUR MASTER, THUS SAITH THE LORD, BE NOT AFRAID OF THE WORDS THAT THOU HAST HEARD, WHEREWITH THE SERVANTS OF THE KING OF ASSYRIA HAVE BLASPHEMED ME.

[Isaiah 37:7] BEHOLD, I WILL SEND A BLAST UPON HIM, AND HE SHALL HEAR A RUMOUR, AND RETURN TO HIS OWN LAND; AND I WILL CAUSE HIM TO FALL BY THE SWORD IN HIS OWN LAND.
He will die in his own land, slain dastardly and not as a warrior on the battlefield.

[Isaiah 37:8] SO RABSHAKEH RETURNED, AND FOUND THE KING OF ASSYRIA WARRING AGAINST LIBNAH: FOR HE HAD HEARD THAT HE WAS DEPARTED FROM LACHISH.


Rabshakeh

had been sent from

Lachish

in the southeast of Judah. Sennacherib had conquered

Lachish

and exiled its inhabitants. The Assyrian depiction of the siege and capture of

Lachish

and exiles from

Lachish

being taken to Assyria is well known. From

Lachish

Sennacherib had moved on to

Libnah

.

[Isaiah 37:9] AND HE HEARD SAY CONCERNING TIRHAKAH KING OF ETHIOPIA, HE IS COME FORTH TO MAKE WAR WITH THEE. AND WHEN HE HEARD IT, HE SENT MESSENGERS TO HEZEKIAH, SAYING,


"TIRHAKAH

KING OF ETHIOPIA" in Hebrew "

Cush

" instead of "Ethiopia".

Tirhaka

was the member of a Sudanese Negro dynasty who had conquered Egypt. The 25

th

Dynasty of Egypt.

Tirhaka

ruled over

Egypt

690-664 BCE.
In ancient times there were several powerful Negro kingdoms in Africa. They appear to have sent expeditions to the East into India and also to South America. The

Olmeks

were a Negro People from Africa who first appeared on the Gulf of Mexico ca 1200 BCE then by ca 800 BCE had gained control over much of the surrounding area. BY ca 100 CE or earlier they had been wiped out. Gigantic statuettes of

Olmecs

have been found. Together with gigantic Negro heads and other similar depictions carvings of "Caucasian" "Bearded" people had been found throughout

Olmec

areas. These people existed alongside the

Omeks

and shared their fate. They are described as "

semitic

-looking" and as from the "Eastern

Mediterranean

". Perhaps they were Phoenicians. The Phoenicians were reported as sending colonists in ships to the west coast of Africa.

[Isaiah 37:10] THUS SHALL YE SPEAK TO HEZEKIAH KING OF JUDAH, SAYING, LET NOT THY GOD, IN WHOM THOU TRUSTEST, DECEIVE THEE, SAYING, JERUSALEM SHALL NOT BE GIVEN INTO THE HAND OF THE KING OF ASSYRIA.

[Isaiah 37:11] BEHOLD, THOU HAST HEARD WHAT THE KINGS OF ASSYRIA HAVE DONE TO ALL LANDS BY DESTROYING THEM UTTERLY; AND SHALT THOU BE DELIVERED?

[Isaiah 37:12] HAVE THE GODS OF THE NATIONS DELIVERED THEM WHICH MY FATHERS HAVE DESTROYED, AS GOZAN, AND HARAN, AND REZEPH, AND THE CHILDREN OF EDEN WHICH WERE IN TELASSAR?

[Isaiah 37:13] WHERE IS THE KING OF HAMATH, AND THE KING OF ARPHAD, AND THE KING OF THE CITY OF SEPHARVAIM, HENA, AND IVAH?

[Isaiah 37:14] AND HEZEKIAH RECEIVED THE LETTER FROM THE HAND OF THE MESSENGERS, AND READ IT: AND HEZEKIAH WENT UP UNTO THE HOUSE OF THE LORD, AND SPREAD IT BEFORE THE LORD.

[Isaiah 37:15] AND HEZEKIAH PRAYED UNTO THE LORD, SAYING,

[Isaiah 37:16] O LORD OF HOSTS, GOD OF ISRAEL, THAT DWELLEST BETWEEN THE CHERUBIMS, THOU ART THE GOD, EVEN THOU ALONE, OF ALL THE KINGDOMS OF THE EARTH: THOU HAST MADE HEAVEN AND EARTH.
"O LORD OF HOSTS, God of all, of all powers.
GOD OF ISRAEL, and not like the "gods" of other peoples.
THAT DWELLEST BETWEEN THE CHERUBIMS: Scripture is speaking as if the Almighty abodes in the ark in the Temple. The Cherubims were in the form of angels: One was feminine, the other masculine. Commentators say that through matrimonial harmony a person can reach great spiritual heights.
THOU ART THE GOD, EVEN THOU ALONE, the is no other, anywhere.
OF ALL THE KINGDOMS OF THE EARTH: All peoples are under the rule of God.
THOU HAST MADE HEAVEN AND EARTH. All forces obey Him.


[Isaiah 37:17] INCLINE THINE EAR, O LORD, AND HEAR; OPEN THINE EYES, O LORD, AND SEE: AND HEAR ALL THE WORDS OF SENNACHERIB, WHICH HATH SENT TO REPROACH THE LIVING GOD.
The reputation of God and of the People of God are one and the same. This theme is repeated several times in the Bible. An article on this matter should appear in a coming issue of BRIT-AM.
If Israel would be faithful to God we would be invincible. God would fight for us as He has several times in the past even though we may not have deserved it.
Everyone who believes in God, prays, and endeavors to lead good lives strengthens the forces of good in this world. On the other hand if you do bad you not only do it to yourself but strengthen the forces of evil all over. Each one of us has a cosmic responsibility. If you want good for the world and others, be good. If you are weak and fall down just keep trying again and again. Never give up. Sooner or later you will be helped from above. The fact that you are reading this message is significant. Nothing is by chance.

[Isaiah 37:18] OF A TRUTH, LORD, THE KINGS OF ASSYRIA HAVE LAID WASTE ALL THE NATIONS, AND THEIR COUNTRIES,

[Isaiah 37:19] AND HAVE CAST THEIR GODS INTO THE FIRE: FOR THEY WERE NO GODS, BUT THE WORK OF MEN'S HANDS, WOOD AND STONE: THEREFORE THEY HAVE DESTROYED THEM.

[Isaiah 37:20] NOW THEREFORE, O LORD OUR GOD, SAVE US FROM HIS HAND, THAT ALL THE KINGDOMS OF THE EARTH MAY KNOW THAT THOU ART THE LORD, EVEN THOU ONLY.

[Isaiah 37:21] THEN ISAIAH THE SON OF AMOZ SENT UNTO HEZEKIAH, SAYING, THUS SAITH THE LORD GOD OF ISRAEL, WHEREAS THOU HAST PRAYED TO ME AGAINST SENNACHERIB KING OF ASSYRIA:

[Isaiah 37:22] THIS IS THE WORD WHICH THE LORD HATH SPOKEN CONCERNING HIM; THE VIRGIN, THE DAUGHTER OF ZION, HATH DESPISED THEE, AND LAUGHED THEE TO SCORN; THE DAUGHTER OF JERUSALEM HATH SHAKEN HER HEAD AT THEE.
"THE VIRGIN, THE DAUGHTER OF ZION": Our deeds in the past may have been more appropriate to those of a whore but even with a little reprentance God considers us Virginal.
A little virgin daughter of the Almighty God of the Universe HATH DESPISED THEE, AND LAUGHED THEE TO SCORN; she knows her father is taking care of matters.
THE DAUGHTER OF JERUSALEM HATH SHAKEN HER HEAD AT THEE: It is the way of young women to disapprovingly mock boastful males who make

exaggerrated

boasts of deeds they cannot perform.

[Isaiah 37:23] WHOM HAST THOU REPROACHED AND BLASPHEMED; AND AGAINST WHOM HAST THOU EXALTED THY VOICE, AND LIFTED UP THINE EYES ON HIGH; EVEN AGAINST THE HOLY ONE OF ISRAEL.
The mighty king of Assyria is suddenly represented as a Don Quixote like figure suffering from delusions of grandeur and charging windmills.

[Isaiah 37:24] BY THY SERVANTS HAST THOU REPROACHED THE LORD, AND HAST SAID, BY THE MULTITUDE OF MY CHARIOTS AM I COME UP TO THE HEIGHT OF THE MOUNTAINS, TO THE SIDES OF LEBANON; AND I WILL CUT DOWN THE TALL CEDARS THEREOF, AND THE CHOICE FIR TREES THEREOF: AND I WILL ENTER INTO THE HEIGHT OF HIS BORDER, AND THE FOREST OF HIS CARMEL.
"CUT DOWN THE TALL CEDARS": The kings of Assyria and Babylon used the forests of Lebanon as a source of wood.
"THE FOREST OF HIS CARMEL" means (says Amos Chocham,"Daat Mikra Commentary" which we use often ) trees bearing fruit and

perhaps also referring to

Mount Carmel in Northern Israel.

[Isaiah 37:25] I HAVE DIGGED, AND DRUNK WATER; AND WITH THE SOLE OF MY FEET HAVE I DRIED UP ALL THE RIVERS OF THE BESIEGED PLACES.

[Isaiah 37:26] HAST THOU NOT HEARD LONG AGO, HOW I HAVE DONE IT; AND OF ANCIENT TIMES, THAT I HAVE FORMED IT" NOW HAVE I BROUGHT IT TO PASS, THAT THOU SHOULDEST BE TO LAY WASTE DEFENCED CITIES INTO RUINOUS HEAPS.

[Isaiah 37:27] THEREFORE THEIR INHABITANTS WERE OF SMALL POWER, THEY WERE DISMAYED AND CONFOUNDED: THEY WERE AS THE GRASS OF THE FIELD, AND AS THE GREEN HERB, AS THE GRASS ON THE HOUSETOPS, AND AS CORN BLASTED BEFORE IT BE GROWN UP.
"AS THE GRASS ON THE HOUSETOPS": Dust and dirt may accumulate on rooftops but is only shallow and any grass that grows there can be blown away by a strong wind.

[Isaiah 37:28] BUT I KNOW THY ABODE, AND THY GOING OUT, AND THY COMING IN, AND THY RAGE AGAINST ME.


Judah in the eyes of Sennacherib was not just another place to conquer. It represented the God of Israel and moral imperative. Sennacherib was enraged against God since the concept of God by the Hebrews entailed moral restriction. All anti-

semitism

is war against God.

[Isaiah 37:29] BECAUSE THY RAGE AGAINST ME, AND THY TUMULT, IS COME UP INTO MINE EARS, THEREFORE WILL I PUT MY HOOK IN THY NOSE, AND MY BRIDLE IN THY LIPS, AND I WILL TURN THEE BACK BY THE WAY BY WHICH THOU CAMEST.


"MY BRIDLE IN THY LIPS": It was the Israelites (we believe) who

revolutionised

the usage of horses. They introduced bridles and made cavalry forces more effective. See "Lost Israelite Identity".
A friend of mine (Yehonatan David White) studied different horse breeds and is convinced that the Arabian horse is descended from a breed introduced by King Solomon. The Scythians used a horse that had an Arabian strain in it. The movement of certain types of cow and sheep etc accompanied the migration of peoples.
It has come to our attention that certain researchers receive Brit-Am postings (directly or indirectly) because (we would like to believe) they get something from them and also because of informational "leads" we sometimes impart.

[Isaiah 37:30] AND THIS SHALL BE A SIGN UNTO THEE, YE SHALL EAT THIS YEAR SUCH AS GROWETH OF ITSELF; AND THE SECOND YEAR THAT WHICH SPRINGETH OF THE SAME: AND IN THE THIRD YEAR SOW YE, AND REAP, AND PLANT VINEYARDS, AND EAT THE FRUIT THEREOF.

[Isaiah 37:31] AND THE REMNANT THAT IS ESCAPED OF THE HOUSE OF JUDAH SHALL AGAIN TAKE ROOT DOWNWARD, AND BEAR FRUIT UPWARD:
Even a small number of survivors can produce large populations in a relatively short time.
The number of unborn children killed in their wombs by abortions in the State of Israel equals the number of children murdered in the Holocaust. We could have been much bigger and greater than we are. We still can rectify the situation if we wish.

[Isaiah 37:32] FOR OUT OF JERUSALEM SHALL GO FORTH A REMNANT, AND THEY THAT ESCAPE OUT OF MOUNT ZION: THE ZEAL OF THE LORD OF HOSTS SHALL DO THIS.

[Isaiah 37:33] THEREFORE THUS SAITH THE LORD CONCERNING THE KING OF ASSYRIA, HE SHALL NOT COME INTO THIS CITY, NOR SHOOT AN ARROW THERE, NOR COME BEFORE IT WITH SHIELDS, NOR CAST A BANK AGAINST IT.

[Isaiah 37:34] BY THE WAY THAT HE CAME, BY THE SAME SHALL HE RETURN, AND SHALL NOT COME INTO THIS CITY, SAITH THE LORD.

[Isaiah 37:35] FOR I WILL DEFEND THIS CITY TO SAVE IT FOR MINE OWN SAKE, AND FOR MY SERVANT DAVID'S SAKE.
Even if Judah is not worthy at some stage or other God will intervene of behalf of Jerusalem and in memory of David.

[Isaiah 37:36] THEN THE ANGEL OF THE LORD WENT FORTH, AND SMOTE IN THE CAMP OF THE ASSYRIANS A HUNDRED AND FOURSCORE AND FIVE THOUSAND: AND WHEN THEY AROSE EARLY IN THE MORNING, BEHOLD, THEY WERE ALL DEAD CORPSES.
The angel slew 185,000 Assyrians.

[Isaiah 37:37] SO SENNACHERIB KING OF ASSYRIA DEPARTED, AND WENT AND RETURNED, AND DWELT AT NINEVEH.

[Isaiah 37:38] AND IT CAME TO PASS, AS HE WAS WORSHIPPING IN THE HOUSE OF NISROCH HIS GOD, THAT ADRAMMELECH AND SHAREZER HIS SONS SMOTE HIM WITH THE SWORD; AND THEY ESCAPED INTO THE LAND OF ARMENIA: AND ESARHADDON HIS SON REIGNED IN HIS STEAD.


"ARMENIA" in Hebrew "Ararat" known to us from Assyrian inscriptions as "

Urartu

". We discussed this entity in "Lost Israelite Identity".

Urartu

appears identical with the Land of Oz populated by mixed

Edomite

and

Aramaen

upper class ruling over a mixture of peoples brought in as settlers from outside by the Assyrians.

Urartu

had been reconstituted by the Assyrians as an Assyrian state but it broke away.

Urartu

had connections with Italy and the rest of Europe. Depictions of the upper class of

Urartu

to my mind appear similar to a certain type of aristocratic Italian especially those depicted in

Renassiance

times.



Chapter 38
[Isaiah 38:1] IN THOSE DAYS WAS HEZEKIAH SICK UNTO DEATH. AND ISAIAH THE PROPHET THE SON OF AMOZ CAME UNTO HIM, AND SAID UNTO HIM, THUS SAITH THE LORD, SET THINE HOUSE IN ORDER: FOR THOU SHALT DIE, AND NOT LIVE.


The Prophet said he was going to die. He did not say "you are in danger of dieing." He prophesied he would die.

Nevetheless

Hezekiah prayed. This establishes the Talmudic principles:
1. In every situation, even the seemingly most impossible, always pray. God is always approachable, always capable of mercy.
2. Prophecies for good always come true somehow or other almost despite how undeserving we may become (Jeremiah 28;9).
3. Prophecies for bad can always be averted through prayer and repentance.

[Isaiah 38:2] THEN HEZEKIAH TURNED HIS FACE TOWARD THE WALL, AND PRAYED UNTO THE LORD,
"THE WALL" of his room. Some say the wall of the Temple.

[Isaiah 38:3] AND SAID, REMEMBER NOW, O LORD, I BESEECH THEE, HOW I HAVE WALKED BEFORE THEE IN TRUTH AND WITH A PERFECT HEART, AND HAVE DONE THAT WHICH IS GOOD IN THY SIGHT. AND HEZEKIAH WEPT SORE.

[Isaiah 38:4] THEN CAME THE WORD OF THE LORD TO ISAIAH, SAYING,

[Isaiah 38:5] GO, AND SAY TO HEZEKIAH, THUS SAITH THE LORD, THE GOD OF DAVID THY FATHER, I HAVE HEARD THY PRAYER, I HAVE SEEN THY TEARS: BEHOLD, I WILL ADD UNTO THY DAYS FIFTEEN YEARS.
He went in the ways of David his father and so when he was virtuous the virtue of David was added on to his. So too can we be helped by virtue of our forebears, if they had virtue. If not, we should know that our own virtue can help our children in time of need and our distant descendants long after we are gone.
"FOR I THE LORD THY GOD AM A JEALOUS GOD, VISITING THE INIQUITY OF THE FATHERS UPON THE CHILDREN UNTO THE THIRD AND FOURTH GENERATION OF THEM THAT HATE ME; AND SHEWING MERCY UNTO THOUSANDS OF THEM THAT LOVE ME, AND KEEP MY COMMANDMENTS" [Exodus 20:5-6]
God promises that for thousands of generations he will remember our good deeds. There is a principle that God punishes and rewards a person according to how that the person would himself choose if he knew all the options.

[Isaiah 38:6] AND I WILL DELIVER THEE AND THIS CITY OUT OF THE HAND OF THE KING OF ASSYRIA: AND I WILL DEFEND THIS CITY.

[Isaiah 38:7] AND THIS SHALL BE A SIGN UNTO THEE FROM THE LORD, THAT THE LORD WILL DO THIS THING THAT HE HATH SPOKEN;

[Isaiah 38:8] BEHOLD, I WILL BRING AGAIN THE SHADOW OF THE DEGREES, WHICH IS GONE DOWN IN THE SUN DIAL OF AHAZ, TEN DEGREES BACKWARD. SO THE SUN RETURNED TEN DEGREES, BY WHICH DEGREES IT WAS GONE DOWN.

>From: "John Geiger"
solar aberrations and late 8th century BC history
>
> Thank you for posting your 16 Jun 2001

Orientalia

70:1 contribution
>including the URL for Jeremy Goldberg's

Biblica

80 (1999) 360-390 extensive
>article: Two Assyrian Campaigns Against Hezekiah and Later

Eigth

Century
>Biblical Chronology. I backed into this area several years ago pursuing
>what could have made the shadows go backward for Hezekiah as reported in 2
>Kings 20:8-11 and 2 Chronicles 32:24 and the possibility that it was related
>to the third event Herodotus reported in book 2-142 wherein the Egyptian
>priests had told him that in their history of human kings that the sun had
>risen in the east twice and in the west twice.

> A friend of mine in a book proposed a mechanism for this almost
>incredible Herodotus reference which made sense and could explain the
>backward moving shadow of Hezekiah and contended he that it

occured

in 701
>BC and that this was the fifteenth

reignal

year of Hezekiah.
> Quoting from his book:
> "

Assyro

-Babylonian records recall that during the reign of Sargon
>(722-705) there came into being a new world order, and then another one in
>the days of Sennacherib (705-681)

Winchler

,

Forschungen

, III:300."

> And evidently from the TRACTATE SANHEDRIN (96a) on the day King
>

Ahaz

of Judah was buried in 714BC, the day was quickened.
> This friend also thinks there was another change to the sun's
>passage in 687 BC which he also links to the final battle of Troy because of
>a quote in the Odyssey of Homer which seems to indicate that Odysseus was
>

confussed

by an unpredictable sun. Quoting from THE ODYSSEY OF HOMER
>(Harvard Classics

vol

22 p 141 1909)
> "Hear my words, my fellows, despite your evil case. My friends, lo,
>now we know not where is the place of darkness or of dawning, nor where the
>Sun, that gives light to men, goes beneath the earth, nor where he (it)
>rises; therefore let us advise us speedily if any counsel yet may be: as for
>me, I deem there is none."
>John Geiger, Oklahoma, USA

We have shown elsewhere how the phenomenon of the sun "going backwards" by ten degrees represented a permanent change in the annual circuit of the earth around the sun from 360 days to the present one of 365/25, as explained by Guy Cramer and Grant R. Jeffrey see:
BAMBU-5
"Velikovsky and The Change in Our Calendar


Guy Cramer, "360 vs. 365. 360 Day Years - Fact or Fiction", explains how in Isaiah 38:8 and 2-Kings 20:1-11 it is related how in the days of King Hezekiah the sun went backwards. Assuming that the sun dial in use had 360 degrees then 10 degrees would equal 20 minutes. He makes the computation whereby a 20 minute addition each day to a year of 360 days (as numerous traditions say then existed) gives us an additional 5.244 days or a year of 365.244 days which is what we have now.

Grant R. Jeffrey, "The 360 Day Prophetic Year of the Bible", points out that a 360 day year appears to be assumed by the Bible.
The Genesis account of the flood in the days of Noah illustrated this 360-day year by recording the 150-day interval till the waters abated from the earth. The 150 days began on the seventeenth day of the second month, and ended on the seventeenth day of the seventh month (Genesis 7:11,24 and 8:3-4). In Other words, the five months last 150 days which is thirty days each; therefore, twelve 30-day months would equal 360 days (12 x 30 = 360 days). We may therefore conclude that before Hezekiah the year last 360 days but after Hezekiah it last 365.25 days as it does today. This ties in with our interpretation of Jeremiah 31:21 in the Hebrew orginial which indicates that the Lost Ten Tribes were commanded tos et up Megalithic Monuments so that in the future ti would be possible to trace their paths of migration. Such a Pathway does exist and is acknowledged by archaeologists. The problem however is that archaeology (relying mainly on radio-carbon dating which is unreliable) trace these megalithic monuments back to thousands (or even tens of thousands) of years before the Ten Tribes were exiled. The change in calendar, however, from a 360-year day to the present one comes to our aid and proves that our understanding is a correct one.
Megaliths were often set to be in alignment with the solstices. Solstices occur twice a year, when the axis of Earth axis tilts the most toward or away from the Sun, causing the Sun to be farthest north or south at noon. Knowing when the solstice occurred enabled a determining of the seasons and planning agricultural activities in accordance. In a year of 365 days the solstices occur at a different day than for a year of 360 days. Since Megalithic monuments on the whole are aligned according to a 365 day they must have been set up after the Time of Hezekiah which was after the time when the Ten Tribes were exiled!
The monuments could not have been set up before the time of Hezekiah which was the time when the Lost Ten Tribes were still being exiled.

[Isaiah 38:9] THE WRITING OF HEZEKIAH KING OF JUDAH, WHEN HE HAD BEEN SICK, AND WAS RECOVERED OF HIS SICKNESS:

[Isaiah 38:10] I SAID IN THE CUTTING OFF OF MY DAYS, I SHALL GO TO THE GATES OF THE GRAVE: I AM DEPRIVED OF THE RESIDUE OF MY YEARS.

[Isaiah 38:11] I SAID, I SHALL NOT SEE THE LORD, EVEN THE LORD, IN THE LAND OF THE LIVING: I SHALL BEHOLD MAN NO MORE WITH THE INHABITANTS OF THE WORLD.

[Isaiah 38:12] MINE AGE IS DEPARTED, AND IS REMOVED FROM ME AS A SHEPHERD'S TENT: I HAVE CUT OFF LIKE A WEAVER MY LIFE: HE WILL CUT ME OFF WITH PINING SICKNESS: FROM DAY EVEN TO NIGHT WILT THOU MAKE AN END OF ME.

[Isaiah 38:13] I RECKONED TILL MORNING, THAT, AS A LION, SO WILL HE BREAK ALL MY BONES: FROM DAY EVEN TO NIGHT WILT THOU MAKE AN END OF ME.

[Isaiah 38:14] LIKE A CRANE OR A SWALLOW, SO DID I CHATTER: I DID MOURN AS A DOVE: MINE EYES FAIL WITH LOOKING UPWARD: O LORD, I AM OPPRESSED; UNDERTAKE FOR ME.

[Isaiah 38:15] WHAT SHALL I SAY? HE HATH BOTH SPOKEN UNTO ME, AND HIMSELF HATH DONE IT: I SHALL GO SOFTLY ALL MY YEARS IN THE BITTERNESS OF MY SOUL.

[Isaiah 38:16] O LORD, BY THESE THINGS MEN LIVE, AND IN ALL THESE THINGS IS THE LIFE OF MY SPIRIT: SO WILT THOU RECOVER ME, AND MAKE ME TO LIVE.

[Isaiah 38:17] BEHOLD, FOR PEACE I HAD GREAT BITTERNESS: BUT THOU HAST IN LOVE TO MY SOUL DELIVERED IT FROM THE PIT OF CORRUPTION: FOR THOU HAST CAST ALL MY SINS BEHIND THY BACK.
God can forgive all our sins and make them as if they were not.

[Isaiah 38:18] FOR THE GRAVE CANNOT PRAISE THEE, DEATH CAN NOT CELEBRATE THEE: THEY THAT GO DOWN INTO THE PIT CANNOT HOPE FOR THY TRUTH.

[Isaiah 38:19] THE LIVING, THE LIVING, HE SHALL PRAISE THEE, AS I DO THIS DAY: THE FATHER TO THE CHILDREN SHALL MAKE KNOWN THY TRUTH.

[Isaiah 38:20] THE LORD WAS READY TO SAVE ME: THEREFORE WE WILL SING MY SONGS TO THE STRINGED INSTRUMENTS ALL THE DAYS OF OUR LIFE IN THE HOUSE OF THE LORD.

[Isaiah 38:21] FOR ISAIAH HAD SAID, LET THEM TAKE A LUMP OF FIGS, AND LAY IT FOR A PLAISTER UPON THE BOIL, AND HE SHALL RECOVER.

[Isaiah 38:22] HEZEKIAH ALSO HAD SAID, WHAT IS THE SIGN THAT I SHALL GO UP TO THE HOUSE OF THE LORD"

Chapter 39
[Isaiah 39:1] AT THAT TIME MERODACH BALADAN, THE SON OF BALADAN, KING OF BABYLON, SENT LETTERS AND A PRESENT TO HEZEKIAH: FOR HE HAD HEARD THAT HE HAD BEEN SICK, AND WAS RECOVERED.


"

MERODACH

BALADAN

" rebelled against Assyria. He was eventually defeated by King

Sancherib

. At this point he would have considered Hezekiah a natural ally. Babylon was always an important factor in the Assyrian Empire.



Merodach-Baladan-ii (721-712 BCE) who is the
"MERODACH BALADAN, THE SON OF BALADAN, KING OF BABYLON"
spoken of by Isaiah is depicted below with the governor of Babylon.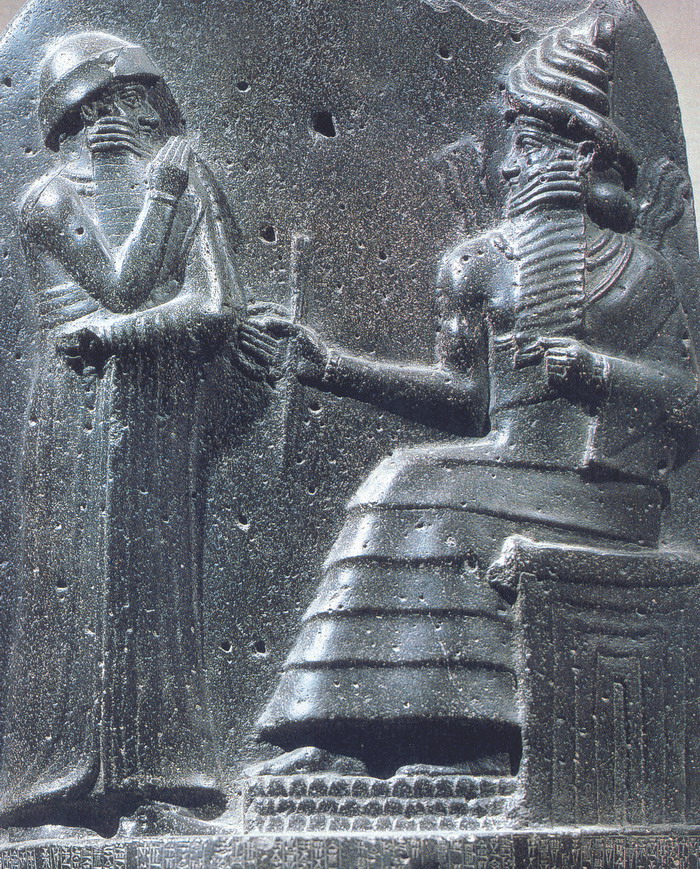 [Isaiah 39:2] AND HEZEKIAH WAS GLAD OF THEM, AND SHEWED THEM THE HOUSE OF HIS PRECIOUS THINGS, THE SILVER, AND THE GOLD, AND THE SPICES, AND THE PRECIOUS OINTMENT, AND ALL THE HOUSE OF HIS ARMOUR, AND ALL THAT WAS FOUND IN HIS TREASURES: THERE WAS NOTHING IN HIS HOUSE, NOR IN ALL HIS DOMINION, THAT HEZEKIAH SHEWED THEM NOT.

[Isaiah 39:3] THEN CAME ISAIAH THE PROPHET UNTO KING HEZEKIAH, AND SAID UNTO HIM, WHAT SAID THESE MEN" AND FROM WHENCE CAME THEY UNTO THEE" AND HEZEKIAH SAID, THEY ARE COME FROM A FAR COUNTRY UNTO ME, EVEN FROM BABYLON.


"A FAR COUNTRY UNTO ME": King Hezekiah calls Babylon a far country. Hezekiah was saying that he was important in their eyes. Hezekiah had in fact lost most of his populace who had been exiled to Assyria. He had been

humilated

by the Assyrians several times and it was only by a miracle that he had been rescued from them. He was a holy man. Holy men do not always realize their own worth. They sometimes feel inadequate. Good and bad things had happened in his kingdom and technically he was responsible for all of them. He may have felt a certain need for re-assurance regarding his own worth.

[Isaiah 39:4] THEN SAID HE, WHAT HAVE THEY SEEN IN THINE HOUSE" AND HEZEKIAH ANSWERED, ALL THAT IS IN MINE HOUSE HAVE THEY SEEN: THERE IS NOTHING AMONG MY TREASURES THAT I HAVE NOT SHEWED THEM.


Why did he feel a need

tro

show them everything? Why does he stress

thiss

in his reply to

Isaiah

?

[Isaiah 39:5] THEN SAID ISAIAH TO HEZEKIAH, HEAR THE WORD OF THE LORD OF HOSTS:

[Isaiah 39:6] BEHOLD, THE DAYS COME, THAT ALL THAT IS IN THINE HOUSE, AND THAT WHICH THY FATHERS HAVE LAID UP IN STORE UNTIL THIS DAY, SHALL BE CARRIED TO BABYLON: NOTHING SHALL BE LEFT, SAITH THE LORD.

[Isaiah 39:7] AND OF THY SONS THAT SHALL ISSUE FROM THEE, WHICH THOU SHALT BEGET, SHALL THEY TAKE AWAY; AND THEY SHALL BE EUNUCHS IN THE PALACE OF THE KING OF BABYLON.
"THY SONS THAT SHALL ISSUE FROM THEE": Meaning the sons of his sons that were still not born at that time.
"EUNUCHS": In Hebrew "

sarisim

" (singular: "saris") which usually does mean eunuch but can also mean simply a servant. The original meaning of "saris" was servant or guardian of the king. This is how the word is employed in

Akkadian

the official language of Assyria. Later the name came to mean "eunuch". In the Bible the word appears to be capable of bearing either or both meanings. It appears that here the meaning is that his descendants will be servants of the Babylonian king. Daniel was one of these servants.

Sannecherib

employed a group of captive

Judaeans

from

Lachish

as his personal bodyguard. These later rebelled. See "Lost Israelite Identity" by

Yair

Davidy

.

[Isaiah 39:8] THEN SAID HEZEKIAH TO ISAIAH, GOOD IS THE WORD OF THE LORD WHICH THOU HAST SPOKEN. HE SAID MOREOVER, FOR THERE SHALL BE PEACE AND TRUTH IN MY DAYS.
"BE PEACE AND TRUTH IN MY DAYS": This shows the character of Hezekiah. He was a king. He felt responsibility towards his subjects. How he discharged his duties as monarch was important to him.
This hints at the fault that had been found in him. He never sinned but it was as if in his attitude he placed the discharge of his own responsibilities (in his eyes and in the eyes of others) before submission to the Almighty.
It also shows that he was concerned to discharge his own special duties beyond all other considerations. This ordinarily would have been a virtue but there was some fault in it. The Almighty weants us to have some concern for ourselves and for our descendants.