In Defense of Anastasia.
Michaeli was Justified and had Little choice! Saved Jewish honor!
A Jerusalem News Special Report.
JN-979
News Features Concerning the State of Israel, the Jewish People, as well as Nations amongst whom we find a significant proportion of descendants from the Lost Ten Tribes.

JN-979.

Jerusalem News. Special Issue




12 January 2012, 17 Tevet 5712


SCROLL DOWN!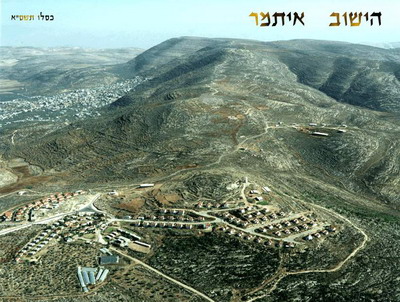 Members of the Fogel Family from Itamar; Murdered (March 11, 2011) by Arab Terrorists for being Jewish .

May the God of Israel Avenge Them.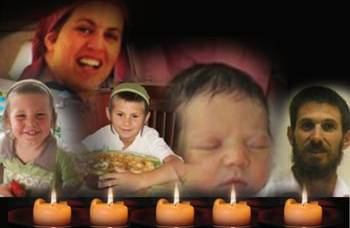 In Defense of Anastasia.
Michaeli was Justified and had Little choice! Saved Jewish honor!
A Jerusalem News Special Report.
Contents:
Who Is Anastasia?
The Water Queen.
What Really Happened?
An [Almost] Eye-Witness Account.
Proud Husband.
This action was an exception and should not be emulated!


---
---
---
Who Is Anastasia?

Despite the somewhat bombastic title of this article its subject matter does not really need our defense.
Anastasia Michaeli is quite capable of looking after herself.
According to online information Anastasia is now 36 years old. She is the mother of eight (sic.) children but still looks at least as good as most women half her age. Anastasia was born in Russia. In her youth she received the title of Miss Leningrad.
Anastasia also worked as a professional model for a while though she had the academic training of a scientist in computer communications since supplemented in Israel by a graduate degree in business studies.

She met Josef Samuelson at a technology exhibition in St. Petersburg. They married and made Israel their home in 1997. Michaeli converted to Judaism in Israel. It took three years for the Rabbinate to accept her, something she still complains about.
Anastasia is now a MK (Member of the Knesset) and the first convert to hold that position. She is a member of the Yisrael Beiteinu party headed by Avigdor Lieberman, the present Foreign Minister.
Anastasia is very active on the subject of the rights of women. Together with Tzipi Hotovely (LIkud) and others she is to be seen weekly at committee meetings on the rights of women that are broadcast live by the Knesset Broadcasting Service.
Apart from womens rights Anastasia has strong patriotic views. We understand that most of her children learn in Jewish religious institutions. She has spoken highly of Judaism for its family values and seems to avoids issues that involve confrontation with the Ultra-Orthodox.

Anastasia however is not afraid of facing up to others when she disagrees with them. On two separate occasions she made major headlines. The first was when she seemed to want to physically confront an Arab woman MK (Zuabi). Zuabi had participated in, or at least been present and supported, an extremley violent action against Israeli troops. The second was when she threw a cup of water at an Arab MK who had insulted her and the Jews in general, as described below.
Wikipedia tells us:
http://en.wikipedia.org/wiki/Anastassia_Michaeli
Michaeli was reprimanded by the Knesset for attempting to physically remove Israeli-Arab MK Hanin Zuabi from the floor as Zuabi tried to speak about the 2010 Gaza flotilla raid. In January of 2012, Michaeli again courted controversy after throwing a cup of water at Israeli-Arab MK Raleb Majadele during an argument about an Arab high school principal who had taken students to the annual Human Rights Day march in Tel Aviv. Majadele promised to take Michaeli to the Ethics Committee for sanctioning.

Concerning Zuabi, this women participated in the attempt by pro-Palestinian Turkish and other activists on the ship Marmara to break the embargo on Gaza.
They kidnapped Israeli soldiers and were beating them with steel pipes and other implements. This forced other Israeli soldiers, who came after them and were armed with pistols, to free their fellows. In the process about nine of the Turks and their friends were sent to clarify if there really are 40 virgins waiting for them on the other side as Mohammed promised.
Anyway, bad blood exists between Zuabi and Anastasia as it should between Zuabi and all Jews.


---
---
---
The Water Queen
A few days ago, Anastasia threw water in the face of an Arab MK. The whole world heard of it. The few seconds that the action took may be seen on numerous Video Clips and News Service reports.
Anastassia was suspended from the Knesset for a month. She was condemned and criticized by a wide range of personages including her own party head as well as her otherwise friend and ally MK Tzipi Hotovely. Everyone seems to have seen only the minute or two of the action itself and on that basis made their judgment.
Yours truly however saw a good deal more.


The incident took place at a sitting of the Education Committee.
The two extracts below give some idea of what happened: Read them and then see our own impressions from what we saw and we seem to have seen much more than most others.

Politician from Israeli parliament throws water at colleague
http://socialchaos.net/2012/01/10/poli
tician-from-israeli-parliamen
t-throws-water-at-colleague/
An ultranationalist Israeli parliament member faced possible suspension from the Knesset on Monday for hurling a cup of water at an Arab colleague when he told her to 'shut up' during exchanges over school students attending human rights rally.
Ghaleb Majadleh, an Israeli Arab member of the Labour party, had protested at an education panel meeting to reprimand an Arab school principal for letting pupils attend a human rights group rally. 'You are inciting against the state,' retorted Anastasia Michaeli, a member of the rightwing Yisrael Beitenu (Israel Our Home) party.
When Majadleh told her to 'shut up' Michaeli rose from her seat, poured water into a plastic cup and threw it at Majadleh, hitting his face and jacket, before heading for the door.
Arab MKs Lorded It Over Jewish Ones Before Water Incident
http://www.israelnationalnews.com/
News/News.aspx/151594
Video shows Arab MKs calling Jewish MKs "mentally ill" and demanding they be ousted from session.
By Gil Ronen
First Publish: 1/10/2012, 1:51 PM
Extracts:

MK Anastassia Michaeli lost her cool Monday in a session of the Knesset's Education Committee, and a video of the session's proceedings before she threw water at MK Raleb Majadle may show why.

The MKs convened to discuss an incident in which a principal of an Arab elementary school took his pupils to participate in a leftist march in Tel Aviv, allegedly organized by MK Hanin Zoabi of the radical Balad party.

Arab MKs domineered the session, however, and indicated through words and body language that they, not the Jews, are the ones in charge.
MK Zoabi defended the principal's action, and said that the protest "built the character" of the pupils who took part in it. MK Danny Danon (Likud) found her statement unbearable and interrupted her. MK Raleb Majadle (Labor), who sat at Danon's left, demanded that the committee's chairman, MK Alex Miller (Yisrael Beitenu) remove Danon from the session. He then added with a thinly veiled threat ' "If you do not remove him, I will."

"Thank you very much," answered Danon, adding bitterly ' "If it were up to you we [Jews] would have been gone from here a long time ago."
When Danon spoke, he suggested sarcastically that MK Zoabi, "the heroine of the Marmara," might also want to take schoolchildren on a tour of that ship and give them an honorary plaque. "Take incitement out of the schools," he urged the Arab MKs, and said that their actions remind him of the Hamas regime, that dresses up children in bomb vests.

At this point, MK Muhammad Barakeh (Hadash), who sat at Danon's right, called Danon "abnormal" and "mentally ill."
"You suffer from a serious disease," he said, leaning on his fist as Danon, who kept his cool, continued to talk. MK Danon asked what the Arab MKs would say if a Jewish principal took his pupils to a march organized by MK Michael Ben-Ari (NU). "Are you talking about the Kahanist'", MK Barakeh repeatedly asked, mockingly.
---
---
---
What Really Happened?
An [Almost] Eye-Witness Account.

The above accounts are fair enough, the second one especially gives a better picture.
I happened to view most of the committee meeting which was broadcast from the Knesset.
I have searched for an online video of this, which should exist, but so far without success.
At all events here is what happened according to what I remember and what my impressions were at the time:

The occasion was a hearing about the headmaster a government-financed Arab school at Ararah taking his students during school hours to a pro-terrorist demonstration against the State of Israel.
The meeting was chaired by MK Alex Miller (Yisrael Beitenu). Miller kept trying to keep the meeting focused. As became apparent later Miller was concerned to keep matters quiet, finish the issue, and completely exonerate the headmaster and his staff.
A lot of people were present but most of them appear to have been Arabs. The only Jews I noticed were MK Alex Miller, MK Danny Danon, and MK Anastasia Michaeli with her female parliamentary assistant.
The meeting was broadcast and I had it on as background noise while I was doing something else.
When I began to take interest Zuabi had just said something and then MK Danny Danon (Likud) replied. The Arabs tried to shout him down with the Chairman in effect inadvertently helping them. Anastasia said a few words but most of the talking was done by Danon who spoke well. After speaking Danon walked out. Perhaps he had somewhere else to be at or was simply demonstrating dissatisfaction with the situation?
At all events the Arabs seemed to be quite pleased. In their eyes, it was as if they had driven him away!
MK Majadle began speaking in denigration of Danon. Anastasia asked him why he was saying such things about Danon without Danon being present.
Majadle in a forceful, belligerent manner told her to shut up several times and called her a Fascist. He would not let her speak. Anastasia picked up her things and together with her parliamentary assistant moved out, apparent to a side room. At the time it seemed as if she had left. Majadle kept on speaking aggressively. He appeared even more self-satisfied. It was as if he had succeeded in driving away two prominent nationalist Israeli Jewish politicians who held views different from his own. He was speaking against Danon and Michaeli and all who think like them. Miller was still trying to make those present focus on the issue at hand but in fact Majadle was doing as he liked.
It was almost like an Arab victory celebration at Jewish expense.
Suddenly Anastasia re-appeared, leaned over the table, poured water into glass and then threw it at Majadle.
She then said to him,
"You should be ashamed of yourself!" Michaeli then left the room, this time by the main door.

When seen in the perspective of all that happened the action of Anastasia was justified or at the least very understandable.
In a sense she saved the national self-respect of the Jewish people.
Most people however have only seen the one and a half-minutes leading up to the water being thrown and the water splash.
This gives a different impression.
Her husband is reported as saying he is proud of her.
So perhaps should us all be.
---
---
---
Proud Husband.
http://www.mako.co.il/news-military
/politics/Article-178f5
cb4778c431017.htm&
sCh=3d385dd2dd5d4110&
pId=1575680455
Extracts translated from the Hebrew:
Businessman, Yosef Samuelson, the husband of Anastasia Michaeli, gives full backing to his wife over the "water incident!"
# As her husband and the father of our mutual children I am happy and proud of her and of what she did. This is the least we can do to prevent this [Arab] aggression....#

# ... I saw the pictures of what happened. The honorable MK Majadaleh was attacking her for several long minutes. He was shouting at her and telling her to shut her mouth.
He exhibited complete lack of respect. His body language was physically very aggressive. One does not need to use rude words in order to project offensive intention. #
---
---
---

This action was an exception and should not be emulated!
Just for the record, the present writer is against aggressive women impinging on male territory but there are exceptions and this may have been one of them.





Pleased with what you read?
The Brit-Am enterprise is a Biblical work.
God willing, they who assist Brit-Am will be blessed.
Brit-Am depends on contributions alongside purchases of our publications

Click Here to make an offering.
Click Here to view our publications.

Archive of
Jerusalem News
Past Issues.



Home