Esau and the Edomites




Poems About Esau



A Brit-Am, Lost Ten Tribes of Israel, Report

To read article scroll down:




Publications
Site Map
Contents in Alphabetical Order

This Site
Poem: Esau
Esau was complete, red and hairy
A Macho guy, tough, no puny fairy.
He to Jacob was a brotherly twin
Carried together in maternal bin
Esau was eldest, first to emerge
Holding the ankle was brother Jack
in future their paths would diverge
Each to follow their own track.
Israel will find the way back.
The Savior of Israel shall not tarry
Joseph with Esau in war shall parry.
Jacob is Israel, while Esau is Edom
Two brothers fight over the kingdom.
Esau seeks Power, Jacob wisdom.

Esau was a hunter and outgoing
Jacob a student staying inside
Learning to understand and knowing
Awareness of Truth to be his guide.
Esau sold Jacob the firstborn right
Gave it away for pottage, without a fight.

Esau to his father was select
Isaac thought Esau the elect.
Isaac told Esau to bring him deer
Rebecca did chance to overhear.
She dressed Jacob in Esau's clothes
Jacob as his brother did pose.
Esau from the hunt came home
Found himself unblessed and all alone
The blessing to his brother given
Jacob to Esau remains unforgiven.

Isaac the blessings to Jacob did assure
Still for Esau he had one blessing more.
Esau would be a warrior mighty and strong
In the use of violence he saw no wrong.
Esau would rule and live by the sword
Over many nations he would be lord.
He would have wealth and fertile earth
In the eyes of Gentiles prove his worth.

Esau wished vengeance and Jacob to kill
For Esau murder means a rush and thrill.
His descendants went to Sparta and Rome
Later they sat on the German Throne.

Amongst Joseph too are Edomites present
They hate the Jews and Israelite Tribes
Brit-Am and the Bible they strongly resent
They use lies and flattery as bribes
To hurt Brit-Am and the Hebrew cause.
They work against us without pause.
HaShem will help us to overcome
We will enjoy it and have some fun.


Return to:
Esau and the Edomites: Contents
Main Page

More Brit-Am Poetry

To Make an Offering to Brit-Am

Send a check to
Brit-Am
POB 595
Jerusalem 91004
Israel

or deposit a donation in our
PayPal Account
http://britam.org/books.html#donate





The name "Ephraim" in Hebrew Letters as Seen
by Satellite in the Hills of Ephraim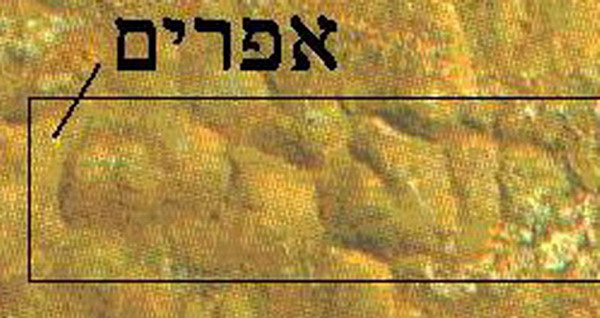 Correspond with us
Send Comments or Criticisms
You may not always receive an immediate answer
but anything you say will be considered and appreciated
Send us an
e-mail

Books and Offering Opportunities

Main Page