JERUSALEM NEWS
NEWS AND INFORMATION
Events, happenings, and Opinions Concerning
Israel, Israelites, Judah, and Everyone Else

Jerusalem News-743





Jerusalem News-743
Date 11th March 2008, 4 Adar-2 5768
Contents:
1. THE SCANDINAVIANS RETURN TO ISRAEL
2. Poll: Antisemitisim in Canada, Quebecois Worse
3.'German children tired of Holocaust'
4. The Mercaz HaRav Attack
(a) Yitzhak

Dadon


(b) David

Shapira


(c) Pictures of Some of the Children Who Were Killed
5. Arabs in Israel: Those Who Support the State Compared to Those who Do Not.



1. THE SCANDINAVIANS RETURN TO ISRAEL
From: imra@netvision.net.il
PRESS RELEASE
Lydia Weitzman, Foreign Press Adviser to the Ministry of Tourism
Email: tourism.gov.il@gmail.com
www.tourism.gov.il
9 March 2008

THE SCANDINAVIANS RETURN TO ISRAEL

10,000 tourists expected to arrive on about 60 charter flights from
Stockholm and Helsinki to Tel Aviv and Eilat during 2008-9.
The second largest wholesaler in Europe,

Dutch company Neckermann Thomas Cook, will market tour packages to Israel from October 2008

The intensive marketing activities of the Ministry of Tourism in the Scandinavian countries have borne fruit, with agreements reached in air and wholesale travel.

The Finnish company Matka Vekka recently announced that, for the first time, it will market vacation packages to Eilat and tours around Israel, in the belief that the tourism potential in Eilat has yet to be exploited in the Finnish market. This is in addition to the weekly charter flight that will fly from Helsinki to Eilat (via Ovda) from October 2008 through to end April 2009, a total of 26 charter flights carrying more than 5,000 tourists. Matka Vekka, which has been marketing vacation packages to various destinations around the world, has 32 travel agencies in Finland, as well as 8 new planes.

In addition, the Swedish company Sabra Tours has announced that it will be returning to Israel with 33 charter flights from Stockholm to Tel Aviv, in cooperation with Israir, from March-November 2008. Despite the "security net" arrangement with the company, travel industry professionals estimate that, due to the recent increase in demand of 20% on last year's reservations, the full capacity of some 4,500 tourists will be met.

The activities of the Ministry of Tourism in the Netherlands have also borne fruit, with the recent announcement that the second largest wholesaler in Europe, the Dutch company Neckermann Thomas Cook, is returning to Israel after ceasing operations in 2000. The company has decided to offer a 5 day touring package to Israel from October 2008 through to end April 2009, with tourists flying from Amsterdam to Taba and crossing the border into Israel.

During 2007, about 45,000 tourists visited Israel from Scandinavia. In January 2008, 2,205 tourists came to Israel from Scandinavia, an increase of 16% over January 2007. Director-General of the Ministry of Tourism Shaul Tzemach: The increase in tourists from Scandinavia is an expression of confidence in Israel and its tourism product. The entry of tourism wholesalers and new airlines is expected to encourage others in these markets to begin operations in Israel."

The Ministry of Tourism is continuing to work with the Scandinavian countries, renewing contacts with the Pentecostal Church, one of the largest in Scandinavia. Senior members of the church, accompanied by journalists, are expected to visit Israel in May as guests of the Ministry of Tourism for the launch of the 60th anniversary celebrations. Christian community leaders in Scandinavia will be briefed on Israel so that they can transmit this information to their local communities, and the first activities of this type took place last month in Finland. 32 new group leaders are expected to arrive in Israel within the next few months for similar briefings.
---
---
2. Poll:

Antisemitisim

in Canada, Quebecois Worse


From: Yocheved Menashe <menashe@MAIL.H-NET.MSU.EDU>
Subject: H-AS HENRY: Quebecois attitudes toward Jews
From: "Brian Henry" <brianhenry@sympatico.ca>

The most recent poll of Canadian attitude toward Jews again shows a large discrepancy between Quebec and elsewhere in Canada.

I've previously written about the Quebecois problem here:
http://tinyurl.com/yxlwegIn that article I suggested that while the new antisemitism expressed as loathing for Israel was growing in Quebec,the old xenophobia might be dying off. This latest poll suggests I spoke too soon. Yours, Brian Henryeditor & writerbhenry_ed@hotmail.com Toronto, CanadaQuebecers' view of Jews sets them apart, poll finds By DAVID
LAZARUS, Staff Reporter, Canadian Jewish News
Thursday, 28 February 2008

MONTREAL - A recent nationwide poll commissioned in the aftermath of Quebec's "reasonable accommodation" commission hearings on minorities reveals a striking disparity between Quebecers' attitudes toward Jews and those of other Canadians.

The poll, commissioned by the Association for Canadian Studies (ACS) and conducted by L ?ger Marketing between Jan. 31 and Feb. 4, asked 1,500 Canadians whether they agreed with, disagreed with, or didn't know/had no opinion on a series of statements regarding Jews and anti-Semitism.

According to the poll results, 41 per cent of Quebecers agreed, and another 41 per cent disagreed, with the idea that "Jews want to impose their customs and traditions on others." By comparison, only 11 per cent agreed and 74 per cent disagreed in the rest of Canada.

To another statement - "Jews want to participate fully in society" - 41 per cent of Quebecers disagreed and 31 per cent agreed, compared with a mere eight per cent disagreeing and 72 per cent agreeing among other Canadians.

On the idea that "Jews have made an important contribution to society," 35 per cent of Quebecers disagreed and 41 per cent agreed, compared with only 10 per cent disagreeing and 74 per cent agreeing in the rest of Canada.

The rest here:
http://www.cjnews.com/index.php?option=com_content&task=view&id=14099&Itemid=86

Brian Henry
Writer/Editor
Toronto, Canada
---
---
3.'German children tired of Holocaust'
http://www.jpost.com/servlet/Satellite?cid=1205162816661&pagename=JPost%2FJPArticle%2FShowFull
By ETGAR LEFKOVITS, BERLIN
---
---
4. The
Mercaz
HaRav
Attack
---
(a) Yitzhak

Dadon


Thursday, March 6, 2008
Yeshiva student who shot attacker recounts moments of horror; 'I was studying when shots rang out'
http://www.imra.org.il/story.php3?id=38484
[Dr. Aaron Lerner - IMRA: For some reason, Israel Radio is frequently not mentioning the role of Dadon in killing the terrorist and only mentions the IDF officer who lives near the yeshiva and joined Dadon.]

'I shot terrorist in head'
Yeshiva student who shot attacker recounts moments of horror; 'I was studying when shots rang out'
Aviram Zino YNET Published: 03.06.08, 22:42 / Israel News
www.ynetnews.com/articles/0,7340,L-3516039,00.html

A yeshiva student who shot the Jerusalem terrorist says he was busy studying when suddenly shots rang out, prompting him to grab his gun and eventually kill the Palestinian attacker

"We realized something happened so I cocked my handgun," Yitzhak Dadon told Ynet Thursday evening.

"I went up on the roof and waited for the terrorist. Meanwhile, I saw blood and shattered glass," Dadon said. "The terrorist continue firing in the air, so I waited to see him again, and then I shot him twice in the head."

Dadon says the terrorist continued firing even after he was hurt.

"He kept on firing until an IDF officer arrived and shot him again," Dadon said.

The gunman infiltrated a rabbinical seminary at the entrance of Jerusalem and opened fire after nightfall Thursday, police said. The ZAKA emergency response service has confirmed at least eight people have been killed.

Paramedics said they treated several people for injuries - among them four in serious to critical condition.

---



(b) David

Shapira



An officer and a hero
http://www.jpost.com/servlet/Satellite?cid=1204546442479&
pagename=JPost%2FJPArticle%2FShowFull
By REBECCA ANNA STOIL



Captain David Shapira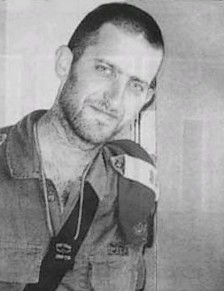 As the tragic events of Thursday began to become more clear, it became increasingly obvious that the hero of the evening was Paratroopers Capt. David Shapira, a father of two young children who proved to be the right man in the right place during the bloody attack.

Shapira was supposed to have been at his base, but he left to perform errands for his battalion, trading places with another officer for the weekend.

The 29-year-old operations officer in the 890th Battalion had just bathed his children, and had put one of them to sleep when he heard explosions coming from the Mercaz Harav Yeshiva across the street.

Although he first thought the noise was from pre-Purim firecrackers, he quickly realized that the explosions were gunshots. Grabbing his service weapon, he ran out of the house toward the yeshiva where he himself had studied.
RELATED
Police probe response to J'lem attack
All Merkaz Harav wounded out of danger

At the entrance to the yeshiva in the capital's Kiryat Moshe neighborhood, Shapira ran into a group of police officers who were standing outside the building, listening to the gunshots from inside. They warned him not to go in, but Shapira pushed them aside and entered.

The officer tracked the terrorist to the library, and, according to his own account, got within two to three meters of his target. Shapira shot 16 bullets at the terrorist, immediately neutralizing him.

And then - like any good officer - Shapira notified his commander. He called the head of the 890th Battalion, and informed him that he had neutralized the terrorist - and was searching the area to make sure that other terrorists had not taken cover in the building.

And with that - at least from the perspective of the young officer - his role was over. He and his wife, Hodaya, who is in the late stages of pregnancy, planned a quiet weekend together.

But on Friday, Shapira received a phone call from an admirer with roots deep in the Paratrooper's longtime rival, the Golani Brigade.

Chief of General Staff Lt.-Gen. Gabi Ashkenazi called to express his admiration for Shapira's actions - and to hear firsthand an account of the events of the night before.

Ashkenazi expressed admiration for the "fast and correct" way in which the captain responded to the attack, adding that this is how he expects "any officer to behave, whether in his unit, on the roads or on leave."

"In your actions," Ashkenazi told Shapira, "you brought expression to the values of the spirit of the IDF. You demonstrated personal leadership, determination, calmness, bravery and pursuit of your enemy until he was neutralized."

---
(c) Pictures of Some of the Children Who Were Killed

| | | |
| --- | --- | --- |
| | | |
| | | |

For Names and Short Biographical Details go to Israel Ministry of Foreign Affairs site and click on the pictures:
http://www.mfa.gov.il/MFA/Terrorism-+Obstacle+to+Peace/Palestinian+terror+since+2000/
Terror+shooting+at+Mercaz+Harav+Yeshiva+in+Jerusalem+6-Mar-2008.htm

---
---
5. Arabs in Israel: Those Who Support the State Compared to Those who Do Not.


Our World: Whither Israeli Arabs?


http://www.jpost.com/servlet/Satellite?cid=1205162814617&pagename=JPost%2FJPArticle%2FShowFull
By CAROLINE GLICK

---
---
---
---


To See Previous Issues
Jerusalem News Archives

Join the Brit-Am Ephraimite Discussion Group
Just Send an
e-mail
with "Subscribe" in the Subject Line
and in the Message

Main Page

Your Offerings and Orders for our Publications