JERUSALEM NEWS
NEWS AND INFORMATION
Events, happenings, and Opinions Concerning
Israel, Israelites, Judah, and Everyone Else

Jerusalem News-736





Jerusalem News-736
13 Adar-1 5738 19 February 2008
Contents:
1. German professors: We've paid for Holocaust in full
2. Saudi Prince Threatens Britain with Terrorist Attacks!
3. North Korea gave Syria nuclear aid



1. German professors: We've paid for Holocaust in full
www.jnewswire.com
by Stan Goodenough
February 19, 2008

A group of German professors came to Israel to tell the Jews - of whom their countrymen murdered six million just a few short decades ago - they believed Germany has paid fully for what it did.

And because it had, they said, Germany should now stop giving Israel "preferential" treatment and behave more "even-handedly" towards the Arabs.

The bald-faced assertions were made Monday at a conference at Netanya's Academic College, according to Ynetnews.

These words, demanding to be "let off the hook already" after wiping out fully one-third of all the world's Jewish people, had long been "brewing just below the surface in Germany," stated the news service.

Nor was this the limit of these professors' gall.

Germany had actually helped to establish Israel by deporting 160,000 Jews to Palestine during the Nazi era, they said.

"These refugees ultimately ended up in Israel and bolstered its Jewish population at the Arabs' expense."
---
---

2. Saudi Prince Threatens Britain with Terrorist Attacks!
http://www.guardian.co.uk/world/2008/feb/15/bae.armstrade

Saudi Arabia's rulers threatened to make it easier for terrorists to attack London unless corruption investigations into their arms deals were halted, according to court documents revealed yesterday.

Previously secret files describe how investigators were told they faced "another 7/7" and the loss of "British lives on British streets" if they pressed on with their inquiries and the Saudis carried out their threat to cut off intelligence.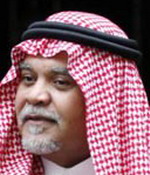 Prince Bandar, the head of the Saudi national security council, and son of the crown prince, was alleged in court to be the man behind the threats to hold back information about suicide bombers and terrorists. He faces accusations that he himself took more than 1bn pounds in secret payments from the arms company BAE.


He was accused in yesterday's high court hearings of flying to London in December 2006 and uttering threats which made the prime minister, Tony Blair, force an end to the Serious Fraud Office investigation into bribery allegations involving Bandar and his family.

The threats halted the fraud inquiry, but triggered an international outcry, with allegations that Britain had broken international anti-bribery treaties.

Lord Justice Moses, hearing the civil case with Mr Justice Sullivan, said the government appeared to have "rolled over" after the threats. He said one possible view was that it was "just as if a gun had been held to the head" of the government.

The SFO investigation began in 2004, when Robert Wardle, its director, studied evidence unearthed by the Guardian. This revealed that massive secret payments were going from BAE to Saudi Arabian princes, to promote arms deals.

Yesterday, anti-corruption campaigners began a legal action to overturn the decision to halt the case. They want the original investigation restarted, arguing the government had caved into blackmail.

The judge said he was surprised the government had not tried to persuade the Saudis to withdraw their threats. He said: "If that happened in our jurisdiction [the UK], they would have been guilty of a criminal offence". Counsel for the claimants said it would amount to perverting the course of justice.

Wardle told the court in a witness statement: "The idea of discontinuing the investigation went against my every instinct as a prosecutor. I wanted to see where the evidence led."

But a paper trail set out in court showed that days after Bandar flew to London to lobby the government, Blair had written to the attorney general, Lord Goldsmith, and the SFO was pressed to halt its investigation.

The case officer on the inquiry, Matthew Cowie, was described by the judge as "a complete hero" for standing up to pressure from BAE's lawyers, who went behind his back and tried to secretly lobby the attorney general to step in at an early stage and halt the investigations.

The campaigners argued yesterday that when BAE failed at its first attempt to stop the case, it changed tactics. Having argued it should not be investigated in order to promote arms sales, it then recruited ministers and their Saudi associates to make the case that "national security" demanded the case be covered up.

Moses said that after BAE's commercial arguments failed, "Lo and behold, the next thing there is a threat to national security!" Dinah Rose, counsel for the Corner House and the Campaign against the Arms Trade, said: "Yes, they start to think of a different way of putting it." Moses responded: "That's very unkind!"

Documents seen yesterday also show the SFO warned the attorney general that if he dropped the case, it was likely it would be taken up by the Swiss and the US. These predictions proved accurate.

Bandar's payments were published in the Guardian and Switzerland subsequently launched a money-laundering inquiry into the Saudi arms deal. The US department of justice has launched its own investigation under the foreign corrupt practices act into the British money received in the US by Bandar while he was ambassador to Washington.

Prince Bandar yesterday did not contest a US court order preventing him from taking the proceeds of property sales out of the country. The order will stay in place until a lawsuit brought by a group of BAE shareholders is decided. The group alleges that BAE made ?1bn of "illegal bribe payments" to Bandar while claiming to be a "highly ethical, law-abiding corporation".

For a series of articles on this matter
that include the ongoing "Guardian" expose of the case,
see:
http://www.guardian.co.uk/world/bae
---
---

3. North Korea gave Syria nuclear aid
Report: U.S. evidence shows N. Korea gave Syria nuclear aid
By The Associated Press Last update - 19:59 18/02/2008
www.haaretz.com/hasen/spages/955508.html

The United States has evidence showing that North Korea helped Syria build
an underground nuclear reactor, a South Korean news report said Monday.

"The U.S. government has circumstantial [evidence] that the North provided
technology assistance to build an underground reactor in Syria," South
Korea's Hankook Ilbo newspaper reported, citing an unidentified diplomatic
channel.

U.S. Embassy officials in Seoul were not immediately available for comment
on the report.

North Korea has repeatedly dismissed its alleged nuclear connection with
Syria, saying that it had already pledged it would never transfer any
nuclear material or technology out of the country.

Monday's report came as the international process aimed at stripping North
Korea of its nuclear weapons programs was at a deadlock over Pyongyang's
refusal to give a complete list of its nuclear programs as required by a
landmark agreement.

U.S. Assistant Secretary of State Christopher Hill arrived in Beijing
earlier Monday for talks with Chinese officials on how to jump-start the
stalled disarmament deal with North Korea.

The U.S. nuclear envoy was scheduled to visit Seoul and Tokyo this week for
similar consultations.

The Israel Air Force last September bombed a facility Syrians claim serves
as an "agricultural research center," but Israel believes is used to extract
uranium from phosphates.

Syria has categorically denied circulating media reports that claimed the
September 6 targeted a nuclear project being undertaken with the cooperation
of North Korea.

The Washington Post had quoted an American Middle East expert as saying that
the alleged IAF strike in northern Syria was directly connected to a
shipment Syria received from North Korea three days earlier.

"There are no nuclear North Korean-Syrian facilities whatsoever in Syria,"
Syria's ambassador to the U.S., Imad Moustapha, said after the reports were
released in September.


---
---
---


To See Previous Issues
Jerusalem News Archives

Join the Brit-Am Ephraimite Discussion Group
Just Send an
e-mail
with "Subscribe" in the Subject Line
and in the Message

Main Page

Your Offerings and Orders for our Publications