HOP no.16
Hussein Obama Pages
1 November 2009, 14 Cheshvan 5769
Contents:
1. Obama's
Website: Hub of Hate - by Jamie
Glazov

2.
Obama
Gives Presidential Medal of Freedom to Mary Robinson
3. Michelle
Obama's
Irish roots traced to Irish slave owner
4. AP declared
Obama
"Kenyan-Born"
5. The
Obamas
Have a Rabbi in the Family
Cousin of
Candidate's
Wife Leads Synagogue on
Chicago's
South Side

---
---




1.

Obama's

Website: Hub of Hate - by Jamie

Glazov


FrontPage Magazine
http://frontpagemag.com/2009/10/28/obamas
-website-hub-of-hate-by-jamie-glazov/print
/#comments_controls
Extracts:
Frontpage Interview's guest today is Pamela Geller, founder, editor and publisher of the popular and award-winning weblog AtlasShrugs.com. ...
FP: Pamela Geller, welcome back to Frontpage Interview.
You have been observing Obama's official website. What exactly is going on there?
Geller: During the 2008 presidential election, Barack Obama's website, Organizing for America, hosted a series of vile anti-American, Jew-hating posts and pieces.
The onslaught was overwhelming, and it included numerous, heinous calls for Jewish genocide and incitement to hatred. And it is happening again, right now, on the official website of the man who supposedly is the leader of the free world, and who has editorial control over the website.
The site was and is policed closely. The site moderators remove material they consider to be "disrespectful to our other users" and to "detract from a welcoming community where all people can engage in positive discourse." Yet the most disgusting anti-Semitic ravings remained on the site.
FP: Give us some examples.
Geller: In April 2008 a post appeared claiming that "Jews owe Africa and Africans everything they have today because if Africa did not shelter them when they were homeless and starving, they would not be here today." On Oct. 5, 2009, a post went up on Obama's website entitled "Nazi Israel . . . Indeed." It quoted a Princeton professor, Richard Falk, referring to Israel's "war crimes," "genocidal tendencies," "holocaust implications," and "holocaust-in-the-making." It spoke about Israel's "Nazi-like crimes and human rights violation."
It claimed: "Comparing the present-day Israel with Nazi Germany one discovers that the majority of the Israeli policies are the exact copies of the Nazi policies. Nazi Germany had invaded its European neighbors extending from England to Russia. Israel had also invaded all its neighboring countries; Egypt, Jordan, Syria, and Lebanon. It is also heavily involved in the invasion of Iraq and Afghanistan. Its tentacles had also reached African countries as far as South Africa, Somalia, Sudan, Angola, and Sierra Leone."
Continuing the lies and blood libels, the post claims: "Worse than the Nazis Israeli forces used to invade peaceful Palestinian towns, execute men, women and children in cold blood everywhere and anywhere they encounter them, dynamite their homes on top of their residents, and finally demolish the whole town making room for new Israeli colonies." It charges that Israel pursued "a pre-meditated genocidal plan" against the Palestinian Arabs.
Suffice it to say that this entry passed muster with Obama's moderators and is clearly acceptable to Obama for America. There appears to be a campaign of sorts to normalize this hatred, as if it's not so bad. Otherwise, why would this poison be up and stay up at Obama's website under his name for months?
Other posts do nothing less than deify Obama. A man who says that his "proudest role in the Obama campaign is that of a liason [sic] representative between Senator Obama and the African Union" posted about Obama in messianic terms: "President Obama is the son of Kings and Queens who ruled over the greatest civilizations in human history. The world waited a long time for the arrival of Obama. We did not always know what his name would be or what he would look like but we knew a son of Africa would return to restore light to the world."

This genius is an adviser to Obama. He is a supporter of the Nation of Islam, and believes Obama is a king descended from Kings and Queens. He is your standard-issue hater of the usual suspects: America, whites, etc.)
The inmates really are running the asylum. This website is Jew-hating, America-hating, white-hating, and you name it. Obama has been hosting it for 18 months, and it is more than disturbing. It's sick. There are no accidents, Jamie.
FP: Ok, if this isn't an accident, then why is this anti-Semitism on Obama's website? What does this say about Obama and his administration?
Geller: Why indeed? It's not as if they are unaware. When Bill Levinson posted quotes of Obama from his own books, his post was taken down within a couple of hours. So allowing this kind of racism to go unchecked now signals a silent complicity.
Obama's website attracts the disenfranchised, the haters, the anti-semites. It speaks volumes. If you go to the "contact us" screen on the site, you receive this message:
"Thank you for your interest in submitting a comment. The Obama Administration is accepting comments at www.whitehouse.gov "
There are no contact e-mails for anyone on the website, just a direct link to the White House.
FP: Why this disposition to Israel and the Jews?
Geller: Obama was raised on it. From Frank Marshall Davis to Khalid Al Mansour, Bill Ayers, Jeremiah Wright, Louis Farrakhan and his ties to the Nation of Islam, Obama has surrounded himself with anti-semites of the worst stripe. This continues now with his anti-Israel advisers, including Robert Malley, Samantha Power, and Zbigniew Brzezinski. This bodes most ill for the Jewish people. This anti-Semitic slant has shown itself in his strident anti-Israel approach to the Middle East "peace" process.

---
---



2.

Obama

Gives Presidential Medal of Freedom to Mary Robinson


http://jewagainstobama.wordpress.com/
Posted by jtfdotorg on August 2, 2009
Extract:
Mary Robinson is the former president of Ireland. She also headed up the infamous Durban I conference, which was nothing more than a rabid anti-Israel hatefest. To add insult to injury, Ms. Robinson is a fanatical supporter of fakestinian terrorism. As president of Ireland, Ms. Robinson provided millions of dollars to the PLO.

During the last four years of Robinson's tenure, the European Union donated large sums of money to the Palestinian Authority. Ireland even held the presidency of the European Union for the second half of 1996. During this time, Arafat siphoned large amounts of European aid money away to pay for terror. Robinson can plead ignorance, but documents seized during the recent Israeli incursion into the West Bank revealed that the Palestinian Authority spent approximately $9 million of European Union aid money each month on the salaries of those organizing terror attacks against civilians. While European officials like Robinson looked the other way, the Palestinian Authority regularly converted millions of dollars of aid money into shekels at rates about 20 percent below normal, allowing the Palestinian chairman to divert millions of dollars worth of aid into his personal slush fund.

Robinson's post-Durban record is little better. On April 15, Robinson's commission voted on a decision that condoned suicide bombings as a legitimate means to establish Palestinian statehood (six European Union members voted in favor including, not surprisingly, France and Belgium). The vote came after Robinson initiated a drive to become a fact finder to investigate the now-famous massacre in Jenin (also known as "the massacre that never happened").

---
---

3. Michelle

Obama's

Irish roots traced to Irish slave owner
by
ANTOINETTE KELLY
IrishCentral.com Staff Writer
http://www.irishcentral.com/news/
First-Lady-Michelle-Obama-has-Irish-
roots-in-her-family-tree.html
Extracts:
Smolenyak traced Michelle's heritage back to a young slave girl Melvinia Shields who was once traded for $475.
Melvinia would go on to have children with an Irish-American slave-owner named Shields whose ancestral home is in Ballysheil, County Offaly.

Smolenyak has done an enormous amount of genealogical research of the First Couple.
In 2007, she found out where in Ireland Obama's family came from after tracing Obama's third great-grandfather on his mother's side, Fulmoth Kearney, journey from Moneygall in County Offaly to the U.S.

---
---

4. AP declared

Obama

"Kenyan-Born"
John Charlton
The Post & Email
October 16, 2009

What most people know is that the Associated Press (AP) is one of the largest, internationally recognized, syndicated news services. What most people don't know that is in 2004, the AP was a "birther" news organization.

How so? Because in a syndicated report, published Sunday, June 27, 2004, by the Kenyan Standard Times, and which was, as of this report, available at

http://web.archive.org/web/20040627142700/
eastandard.net/headlines/news26060403.htm

The AP reporter stated the following:

Kenyan-born US Senate hopeful, Barrack Obama, appeared set to take over the Illinois Senate seat after his main rival, Jack Ryan, dropped out of the race on Friday night amid a furor over lurid sex club allegations.

This report explains the context of the oft cited debate, between Obama and Keyes in the following Fall, in which Keyes faulted Obama for not being a "natural born citizen", and in which Obama, by his quick retort, "So what? I am running for Illinois Senator, not the presidency", self-admitted that he was not eligible for the office. Seeing that an AP reporter is too professional to submit a story which was not based on confirmed sources (ostensibly the Obama campaign in this case), the inference seems inescapable: Obama himself was putting out in 2004, that he was born in Kenya.

For those who believe what they see, here is the screen capture of the page from the Kenyan Sunday Standard, electronic edition, of June 27, 2004, Just in case that page is scrubbed from the Web Archive:



Obama from Kenya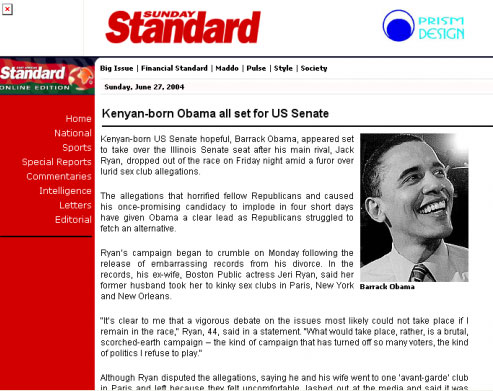 Readers should take note that this AP story, was syndicated world-wide, so you should be able to find it in major newspapers, archived in libraries world-wide. If any reader does this, please let The Post & Email know, so that we can publish a follow up-story. You can scrub the net, but scrubbing libraries world-wide is not so easy.

It should be noted that on January 8, 2006, the Honolulu Advertiser also reported that Barack Hussein Obama was born outside the United States.
http://the.honoluluadvertiser.com/article/
2006/Jan/08/ln/FP601080334.html

---
---

5. The

Obamas

Have a Rabbi in the Family
Cousin of Candidate's Wife Leads Synagogue on Chicago's South Side
http://www.bethshalombz.org/about.html


By Anthony Weiss


Thu. Sep 04, 2008

FUNNEYE: The country's most prominent black rabbi.
Extracts:
While Barack Obama has struggled to capture Jewish votes, it turns out that one of his wife's cousins is the country's most prominent black rabbi.
Michelle Obama, wife of the Democratic presidential nominee, is a first cousin once removed of Rabbi Capers Funnye, spiritual leader of a mostly black synagogue on Chicago's South Side. Funnye's mother, Verdelle Robinson Funnye, and Michelle Obama's paternal grandfather, Frasier Robinson Jr., were brother and sister.
Funnye (pronounced fuh-NAY) is the chief rabbi of the Beth Shalom B'nai Zaken Ethiopian Hebrew Congregation in southwest Chicago. He is well known in Jewish circles for acting as a bridge between mainstream Jewry and the much smaller, and largely separate, world of black Jewish congregations, sometimes known as black Hebrews, or Israelites. He has often urged the larger Jewish community to be more accepting of Jews who are not white.
In this presidential campaign, Funnye?s famous relative gives an unexpected twist to the much analyzed relationship between Barack Obama and the Jewish community. On the one hand, Jewish political organizers, voters and donors - including some of the city's wealthiest and most prominent families - played an essential role in Obama?s rise to power in Chicago. But the Illinois senator has struggled to overcome suspicions in some parts of the Jewish community, including skepticism about his stance on Israel, and discredited but persistent rumors that he is secretly a Muslim.
Funnye, who describes himself as an independent, said he has not been involved with the Obama campaign. He noted, however, that he has donated money and that he was cheering Obama on.
"I know that her grandfather and her father and my mom and all of our relatives that are now deceased would be so very, very proud of both of them," Funnye told the Forward.
Michelle Obama and the Obama campaign did not respond to requests for comment.
Funnye, 56, has known Michelle Obama (born Michelle Robinson), 44, since she was born. Both grew up on the South Side of Chicago, and Funnye's mother and Obama's father enjoyed a close relationship.

Although Funnye's congregation describes itself as Ethiopian Hebrew, it is not connected to the Ethiopian Jews, commonly called the Beta Israel, who have immigrated to Israel en masse in recent decades. It is also separate from the Black Hebrews in the Israeli city of Dimona, and from the Hebrew Israelite black supremacist group, whose incendiary street harangues have become familiar spectacles in a number of American cities.
Funnye converted to Judaism and was ordained as a rabbi under the supervision of black Israelite rabbis. He then went through another conversion, supervised by Orthodox and Conservative rabbis. Funnye has worked to connect his own congregation with the rest of Chicago's Jewish community. He serves on the Chicago Board of Rabbis and is vice president of the Israelite Board of Rabbis, the rabbinical association for black Israelite rabbis.
He has also traveled around the country, encouraging the mostly white Jewish establishment to be more welcoming of non-white Jews around the world. Last July, Funnye attended the installation of Gershom Sizomu, the new chief rabbi of Uganda.

Neither Funnye nor the Obamas have made a point of mentioning their family ties. In Funnye's synagogue, however, the rabbi's link with the Democratic presidential nominee is a matter of common knowledge.
"He really jumped on everyone's radar after the 2004 convention," Funnye said. "That's when some people said, `Isn't he related to you or something?" I said, `Yeah, he's married to my cousin, and she's making him everything that he is."

See also:
http://en.wikipedia.org/wiki/
Capers_Funnye#cite_note-aaa-10









---
---
The HOP Archives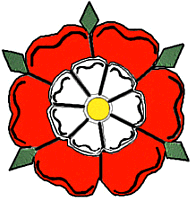 Pleased with what you read?
The Brit-Am enterprise is a good Biblical work.
God willing, they who assist Brit-Am will be blessed.
Brit-Am depends on contributions alongside purchases of our publications
Click Here to make an offering.
Click Here to view our publications.
---
---
---
'It is impossible to rightly govern the world without
God or the Bible.'
George Washington
---
---

Brit-Am is the "still small voice" that contains the truth.
[1-Kings 19:12] AND AFTER THE EARTHQUAKE A FIRE; BUT THE LORD WAS NOT IN THE FIRE: AND AFTER THE FIRE A STILL SMALL VOICE.




Home