HOP no.14
The Hussein
Obama Pages
Obama in Egpyt with Alien Spacemen!





Obama dressed as a Muslim dignitary while on a visit to Kenya in 2006.




HOP no.14
Hussein Obama Pages
19 July 2009, 27 Tammuz 5769
Contents:
1.
Obama
in Egypt: Searching for a Look Alike
Excerpts from Selected Articles:
(a) In the Tomb of an Overseer
(b) Big Ears
(c) "Hey, that looks like me!:
(d)
Obama
a Tutankhamen Double? Obama says, Not Slaves but Aliens built the Pyramids?
(e) Cairo identifies
Tutukan
with
Obama

(f) Poem:
Tutukan
---
---


(a) In the Tomb of an Overseer
http://answers.yahoo.com/question/
index?qid=20090615073400AA3Fi51
Meryrenefer was an official during Egypt's 5th Dynasty, probably during the reign of Pepi II. He was the "Overseer of the Pyramid Towns of Khufu and Menkaure", the "Inspector of wab-priests of the Pyramid of Khafre" and "Tenant of the Pyramid of Pepi I. However, he is better known to us as Qar (or Kar). He was married to Gefi, who was a "Prophetess of Hathor".

---
---

(b) Big Ears and Identification
President Obama Visits Giza
http://pmanuelian.wordpress.com/2009/06/
04/president-obama-visits-giza/
June 4, 2009




President Obama toured the Giza Pyramids today. Zahi Hawass showed him around, and also took him into the tomb of Qar, a small Dynasty 6 subterranean chapel with engaged statuary on the east side of the Great Pyramid.

The president saw a hieroglyphic her [pronounced "hair"] face, a sign that is carved frontally, and he remarked that the prominent ears reminded him of himself.

This hieroglyph, often standing for the preposition meaning "because, on account of," is a standard sign, and was not intended to show the likeness of Qar himself.
---
---

(c) "Hey, that looks like me!"
http://minnesotaindependent.com/36325/obama-qar-jeffers-minnesota
President Obama saw a figure carved in stone Thursday at the Tomb of Qar at Giza, Egypt that looked familiar. "Hey, that looks like me!" he exclaimed.

http://www.cbsnews.com/blogs/2009/06/04/
politics/politicalhotsheet/entry5062724.shtml
Serving as Mr. Obama's guide in Giza was Dr. Zahi Hawass, Secretary-General of Egypt's Supreme Council of Antiquities. He led the way in and around the pyramids and the Sphinx, including a visit to the Tomb of Qar, who Hawass described as a well-known priest, scholar and judge in ancient Egypt. On the wall were hieroglyphs of Qar, primitive images engraved in the stone. He was a thin man man with big ears.

"That looks like me!" exclaimed President Obama. "Look at those ears."

The president summoned to his top aides to take a look, and repeated his observation about the Qar hieroglyph.

"Look, that's me," he told them. None of his senior staff was willing to disagree with the boss. Chief of Staff Rahm Emanuel smiled politely, if not knowingly.

---
---



(d)

Obama

a Tutankhamen Double? Obama says, Not Slaves but Aliens built the Pyramids?


US President Barack Obama Visits the Pyramids
by Zawi Hawass
http://www.drhawass.com/blog/us-
president-barack-obama-visits-pyramids
We talked about how Tutankhamun had captured the hearts of everyone in Chicago, and

it suddenly occurred to me how much the president looked like the young king. I told him this, and he said that it was not the first time that someone had said the same thing.






We walked down to the Sphinx from the Khufu Boat Museum, and President Obama asked me questions about the people who built the pyramids, noting that they were not slaves. We talked about the casing on the pyramid of Khafre, and how the Great Pyramid had once been cased the same way in fine white limestone.

He joked with the press about the idea that aliens had built the monuments of

Giza

.

Between the paws of the Sphinx, we talked about history and posed for many pictures. I told him how much the people of Egypt love him and how happy everyone was on the day of his election. We all expect him to do a lot for the world.

---
---

(e) Cairo identifies

Tutukan

with

Obama


http://www.salaroche.net/Commentaries/
NewTutankhamen.html
In Cairo there were people in the streets holding banners that said "Obama, the new Tutankhamen of the world." There were people wearing t-shirts that said the same thing too. That's quite a flattering analogy for Obama. Tutankhamen was a boy-pharaoh worshipped almost as a god by 1324-BC Egyptians. A very significant reference, given the high expectations that millions of people across the world have vested on Obama.



T-shirt from Cairo, Egypt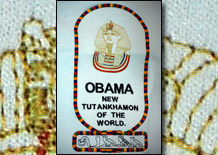 ---
---
(f) Poem:
Tutukan
News Features:
Obama considered to look like Tutankamen, says aliens built the pyramids!

Tutan-Kan
Yes, we can
We are the man
From the land of Cham
Which was the name
and Means the same
as Land of Ham
which is Egypt.
When President Obama came
The US was gypped!
As Israel lamented
Grief Hussein fomented
In his demand
to retreat
from the Land
of Israel.
The Abominated Obamad
regaled the press
with his finesse
and tales of alien beings
and other seeings.
Would we be blessed
Our heart at rest
If his presence were deducted
And Hussein by UFOs abducted?


---
---
The HOP Archives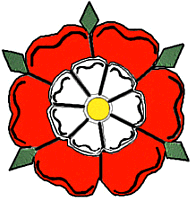 Pleased with what you read?
The Brit-Am enterprise is a good Biblical work.
God willing, they who assist Brit-Am will be blessed.
Brit-Am depends on contributions alongside purchases of our publications
Click Here to make an offering.
Click Here to view our publications.
---
---
---
'It is impossible to rightly govern the world without
God or the Bible.'
George Washington
---
---

Brit-Am is the "still small voice" that contains the truth.
[1-Kings 19:12] AND AFTER THE EARTHQUAKE A FIRE; BUT THE LORD WAS NOT IN THE FIRE: AND AFTER THE FIRE A STILL SMALL VOICE.




Home